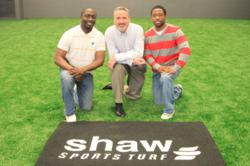 It's proven and it's changing lives. Kids are starting to understand their purpose. We've seen a turnaround from kids in this program that you don't see through traditional channels."
BALTIMORE, Maryland (PRWEB) May 01, 2013
Shaw Sports Turf and others help provide tools for the revolutionary program.
A young football player from Towson State University drops his bag and sits on the new turf at Next Level Nation to put his cleats on in preparation for a workout. He is greeted by Tommy Polley, a former Florida State All-American and linebacker for the Rams and the Ravens, who introduces himself.
Devin Redd, one of the founders of Next Level Nation, looks over and smiles at the exchange, satisfied that he is achieving his mission.
Redd, along with Next Level Nation co-founder Cory Robinson, achieved success on and off the football field while finding their own way. Now, these two Calvert Hall football coaches are providing direction and guidance to young men in the Baltimore area to help them determine where they want to go in life and clearing a path to help them achieve their goals.
Robinson and Redd both attended Cardinal Gibbons High School, where they graduated in 2005. Robinson played at Central Connecticut State University and Redd played at Southwest Baptist University. The recruitment process was not an easy one, and the two shared a common goal of making it easier for others.
"We wanted to work with guys that came from where we came from that wouldn't have these opportunities unless someone was there to help them," said Robinson.
The duo coaches at Calvert Hall, but have worked tirelessly to develop Next Level Nation, which now features a complete facility and a new Shaw Sports Turf indoor practice field. Shaw Sports Turf also supplied the game and indoor practice fields for the Baltimore Ravens.
The program doesn't just take anyone. Each potential participant in the program undergoes a PAC Assessment, which measures physical, academic, and character attributes in each young man. They not only evaluate football skills, but academic achievement and real life situations such as going out to eat and interacting with authority figures.
The program has received widespread support and now has a home in an unused part of the Rognel Heights Elementary/Middle School in the Edmondson Village area of Baltimore.
It features a learning lab, where athletes have mandatory study and tutoring sessions. It also has a lounge where athletes can relax after a workout in the weight room or on the turf participating in drills for speed and position skills.
"We are excited to see the opportunity to have our own home where we can just turn the keys and kids can be in here from 5:00 a.m. until 10:00 at night and focus on academics and athletics," said Redd.
According to Robinson, the program has continued to grow in its impact.
"It's proven and it's changing lives," he said. "Kids are starting to understand their purpose. We've seen a turnaround from kids in this program that you don't see through traditional channels."
Many of the kids come from families that do well, but many more come from at-risk situations.
Next Level Nation started with 15 kids, 14 of whom received college scholarships. The program currently has over 100 kids at all ages and boasts players at schools such as the University of Oklahoma and Penn State University.
Next Level Nation has athletic trainers, coaches and even a PhD in child psychology who works in the school system and helps monitor academic progress for the participants. Now, thanks to Shaw Sports Turf, the facility has an indoor practice field featuring state-of-the-art synthetic turf for Next Level Nation training programs.
"We're proud to be part of this tremendous effort," said Ron Towle, Territory Manager with Shaw Sports Turf. "These young men have started a successful program that is growing and already the subject of replication efforts in other areas."
Along with Shaw Sports Turf, many others have been instrumental in the development of the program. Among those are Sports Authority, Tony Ashley of Ashley Realty, Freestate Indoor Sports Arena, Knott Mechanical, Brick Bodies, Lynn Brick's Women's Health & Fitness, and Frank Kelly III of Kelly & Associates.
"I met Cory and Devin through their coaching my sons in football at Calvert Hall, and have also been involved with them as an advisor to Next Level Nation," said Kelly. "I really appreciate NLN's passion and mission to help young athletes fulfill their God-given potential physically, mentally, emotionally, and spiritually. Cory, Devin and the NLN team are very "hands on" in providing opportunities for young, and in many cases at-risk, athletes to fulfill their potential on the field and off. The new facility, along with the new turf, will be used in great ways to help accomplish the NLN mission."
Based on the supporting cast and the determination of two athletes who rose from nothing, hundreds of young men will one day be able to say, "Mission accomplished."
About Shaw Sports Turf
A wholly-owned subsidiary of Berkshire Hathaway Inc., Shaw Industries is a full flooring provider to the residential and commercial markets. Shaw supplies carpet, rugs, hardwood, laminate, resilient, and tile/ stone flooring products, as well as synthetic turf. Shaw Sports Turf is one of the leading synthetic turf companies in North America and has represented quality and innovation for more than two decades with over 1,000 successful installations, including an impressive list of high-profile field installations. For more information please visit http://www.shawsportsturf.com, call 866-703-4004 or find us on Facebook.