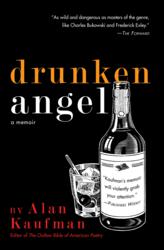 (PRWEB) May 01, 2013
A Bronx-born son of a Holocaust survivor and an Israeli army veteran, Alan Kaufman is one of the founders of the Spoken Word/Slam poetry movement and a critically-acclaimed novelist, memoirist and poet. He is the author of the newly released memoir Drunken Angel.
The San Francisco-based author is also the editor of The Outlaw Bible of American Poetry. His anthology, The Outlaw Bible of American Literature was reviewed on the cover of the New York Times Book Review.
Alan Kaufman has been compared to Jack Kerouac, Henry Miller, Hubert Selby Jr., and even Ernest Hemingway, another soldier turned writer. Drunken Angel drops like a sledgehammer: an exhilarating account of a life-long battle with alcoholism and a magnificent rise into sobriety that takes us from East Village park benches and reciting Kaddish in Dachau to the pages of The New York Times. Along the way, Kaufman shares revealing portraits of mentors and friends, including Allen Ginsberg, Kathy Acker, Barney Rosset, Anthony Burgess, Elie Wiesel, Isaac Bashevis Singer and Bernard Malamud.
He was recently featured in Shelf Awareness and on The Liz St. John Show and The Pat Thurston Show. He also read at The Make Out Room in San Francisco as part of "Inside Storytime" on April 30th.
Alan Kaufman will be moderating panels at the Mechanics Institute Library in San Francisco on July 12 in conjunction with the exhibit at The Contemporary Jewish Museum titled "Beat Memories: The Photographs of Allen Ginsberg," which is open from May 23—September 8. He will also be hosting a poetry Shabbat at Temple Sha'ar Zahav in San Francisco on July 13.