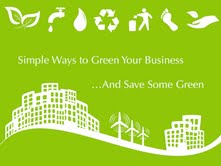 business owners should treat the planet the same way they treat their businesses and customers: with the care and consideration that shows they want to keep them around for a while.
Meridian, Idaho (PRWEB) May 02, 2013
Click Here to Read the Original Post.
1. Ditch the Paper
-Request e-billing from the companies you do business with, and offer the same to your clients.
-Email PDF versions of important documents or product information instead of printing stacks of paper.
-Convert to an electronic filing system. Keyword searches on your computer will save you time, paper, ink and the hassle of remembering how you filed something.
2. Reduce, Recycle and REUSE
Hopefully you already recycle paper, but get even more use out of would-be-waste paper by repurposing it for scratch paper, leaving notes and even packing material.
3. Reusable Cups vs. Styrofoam
Invest in ceramic mugs and drinking glasses so you can be green when offering clients a beverage. Make sure you select an ecofriendly dish detergent.
4. Save fuel
If you can't afford a hybrid as a company vehicle, you can reduce fuel use by planning routes carefully, consolidating trips, performing regular maintenance and using cruise control.
5. Pack a lunch
Going out to lunch means excess driving, not to mention the waste created by to-go packaging and utensils. Business owners can encourage employees to eat in by offering a kitchenette for food preparation and a pleasant eating area (away from ringing phones and email alerts).
6. Clean Green
Use environmentally friendly cleaning products. These are usually offered in highly concentrated forms that reduce the amount needed to get the job done. Additionally, this reduces the amount of packaging required and fuel used for shipping.
7. Green Your Network
Use products and services from like-minded businesses and send them referrals. Green deserves green.
8. R.E.P. (Repurpose Everything Possible)
-Buy furniture from second-hand stores, then make it your own by painting or refinishing.
-Get crafty and decorate your office space with repurposed and upcycled décor items. Paint mismatched photo frames into a matching set or give old glass new life by painting, coating with colorful tissue paper or wrapping in raffia. Turn old cardboard boxes into file, book and magazine storage. If you need inspiration, turn to Pinterest.
9. Reduce Kilowatt Hours
-At the end of each day, turn off lights and power down computers, printers, radios and other office equipment.
-Use a timer for exterior lights and only illuminate when necessary. Energy Star light bulbs will last longer and save you money on your utility bill.
-Use a programmable thermostat to regulate office temps during the day and to keep you system from kicking on when no one is there.