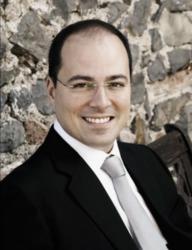 Traditional billing systems are proving to be inflexible and too costly to support... Aria 'future-proofs' recurring revenue and lifetime customer value by providing companies with a purpose-built solution
San Francisco, CA (PRWEB UK) 2 May 2013
Aria Systems, the expert in cloud-based subscription billing, today announced that international sales and business development executive Riccardo Vicari has joined Aria Systems as Vice President of Enterprise Sales for the Europe, Middle East and Africa (EMEA) regions. The appointment of Vicari is an important next step in Aria's move to accelerate growth in revenue (over 100 percent in 2012) and contracted recurring revenue processed (over $13 billion in 2012) by increasing expansion into the international marketplace.
"Riccardo has an outstanding track record of customer success that spans the globe," said Rob van Es, Senior Vice President of Worldwide Sales, Aria Systems. "He has successfully led regional operations for major billing solution vendors across EMEA, giving him a deep understanding of the unique billing needs of enterprises worldwide."
Vicari joins Aria from Comverse Technologies and brings nearly two decades of experience in providing global enterprise billing solutions to telecom, media and technology industries, overseeing hundreds of millions of dollars in new business generated.
"I see tremendous potential for Aria's cloud-based subscription billing service in international markets," said Vicari. "Enterprises in every industry sector are deploying new recurring revenue models to open up new markets and gain competitive advantage in their existing ones. Traditional billing systems are proving to be inflexible and too costly to support their ambitions. Aria 'future-proofs' recurring revenue and lifetime customer value by providing companies with a purpose-built solution for monetizing and servicing recurring revenue relationships that run on a scalable, reliable and secure cloud platform."
Please consider downloading the Six Key Buying Considerations e-Paper, or attending a quick introductory webinar detailing how and why Aria's subscription commerce platform can help your Company meet its recurring revenue goals. Visit http://www.ariasystems.com or call 1.877.755.2370.
About: Aria Systems delivers the full power of subscription commerce to transform business by creating new opportunities, improving customer relationships and providing more revenue predictability. The Aria Subscription Billing and Management Platform was chosen by brand name companies such as Pitney Bowes, AAA NCNU, Experian, Red Hat, Ingersoll Rand, EMC, VMware, and HootSuite to evolve their company's subscription businesses while delivering outstanding customer experiences.