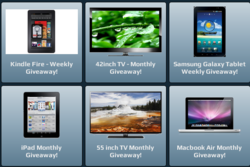 From computers to Kindles, televisions to iPads, Red Rock Insights is hooking up some of its loyal members with the hottest contraptions on the market.
Los Angeles, CA (PRWEB) May 02, 2013
Just two months after opening its doors, RedRockInsights.com has already awarded nearly 40 luxury prizes to its members. The stock market education website aims to not only inform people about investing, but incentivize this learning by offering high-tech gadgets via prize drawings. By the end of this week, 39 lucky members can call themselves winners.
From computers to Kindles, televisions to iPads, Red Rock Insights is hooking up some of its loyal members with some of the hottest contraptions on the market. Thus far, here is the prize breakdown:

14 iPads (Three of which are iPad minis)
Nine Kindle Fires
Nine Samsung Galaxy tablets
Three large screen televisions
Two Microsoft Surface tablets
Two Macbook Air laptops
That's a lot of iPads! Thus far the reaction has been overwhelmingly positive to the giveaways. "The prizes keep our members excited and returning to the site," said Dan Stevens, a representative for RedRockInsights.com. "Even those who haven't won a prize yet seem genuinely happy. On our Facebook page, they congratulate the winners and wish everyone luck in the future."
To put themselves in the running to win prizes, members must interact on the site. Simple actions like reading articles, answering quizzes, commenting on the content all earn members points, which can be redeemed to enter the giveaways. Prize drawings occur weekly, although members may choose to apply their points toward the larger monthly drawings instead.
Drawings for the month of April will occur later in the week. At that point, Red Rock Insights will give away an additional Macbook Air, large screen television, Microsoft Surface tablet, and iPad to four more fortunate site members.
Additionally, nearly 100 Red Rock Insights members have also won gift cards through RedRockInsights.com. Once a week at a random time, $25 Amazon gift cards are posted to the site for those lucky enough to find and claim them.
More prizes will be on the horizon when the site unveils its Million Dollar Challenge. Soon, this new feature will allow Red Rock Insights members to play a fantasy stock trading game. Using virtual dollars, participants can play the market and put their knowledge and instincts to the test without risking of their money. It's a great way for new investors to see whether playing the stock market is right for them.