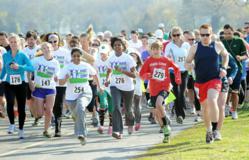 When you run, imagine you are stepping on ticks.
Stamford, CT (PRWEB) May 01, 2013
A day of picture-perfect weather brought out nearly 300 runners, walkers and friends to Cove Island Park on Sunday morning for Lyme Research Alliance's (LRA) second annual "Race Against Lyme," raising $27,000.
The 5K Walk/Run was held to raise awareness about the escalating incidence of Lyme and other tick-borne diseases and to raise funds for Lyme disease research on behalf of LRA, the leading nonprofit funding research into Lyme and other tick-borne diseases. The event--which drew participants from several other states including Rhode Island, New York, and Massachusetts--was timed to help kick off Connecticut's Lyme Disease Awareness Month.
Honorary Event Chair Brian Fallon, MD, director of the Lyme and Tick-borne Diseases Research Center at Columbia University Medical Center, thanked LRA for its contributions to ongoing research and said a "ton of progress" is being made in developing better diagnostic tests and Lyme treatments.
He also told the crowd "when you run, imagine you are stepping on ticks."
In addition to the 5K Walk/Run, there was a one loop Fun Run for children, and a special loop for those coping with Lyme disease.
Race results and photos are posted on the LRA website. For the second year in a row, the 5K first place male runner was Jacob Grice of Stamford. His finish time this year was 16:19, bettering his previous finish of 17:13. Also repeating her 2012 win was first place female runner Alex Herzog of Mount Kisco, finishing in a time of 21:59, significantly improving on her last year's time of 25:22. The second place male and female runners were Jahn Sopko of Stamford, with a time of 18:30, and Jessica LeBoeuf of Norwalk, 22:30.
The top fundraising award went to Annie and Sara McAndrews, followed by Chelsea Brown. The two teams raised over $10,000 combined.
Special guests at the event included Eva Sapi, Ph.D., University of New Haven, a Lyme disease researcher and grantee of Lyme Research Alliance, and Dr. Thomas Mather, director of the University of Rhode Island's Center for Vector-Borne Disease and its TickEncounter Resource Center. Tick Encounter brought a team of runners, plus one person dressed as a Big Tick.
Sponsors for this year's Race Against Lyme included Pepe Auto Group of White Plains, Greenwich Running Co., the Edge Fitness Clubs, Charles River Apparel, Select TCS Tick Control System, Moffly Media, The Stamford, Greenwich and Milford Departments of Health, Events Party & Tent Rentals, Orthopaedic & Neurosurgery Specialists PC, and WSHU Public Radio Group.
"Thank you to our volunteers, sponsors, and all who came out to support our event," said Peter Wild, LRA's executive director. "It not only gathered together people who have the same concern about Lyme disease, but by participating they contributed critically needed funds that will continue essential cutting-edge research. We all are committed to creating a future free of Lyme and other tick-borne diseases."
NOTE: Photos for LRA's 2013 "Race Against Lyme" can also be found on Pinterest.
________________________________________________________________________________
Lyme Research Alliance, formerly Time for Lyme, is a Connecticut-based, national non-profit that funds cutting-edge research into Lyme and other tick-borne diseases. For more information go to http://www.lymeresearchalliance.org.