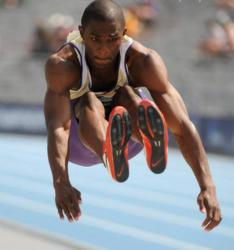 Platelet Rich Plasma therapy has helped me tremendously. Right now, I have no pain.
(PRWEB) May 02, 2013
Like Tiger Woods and Kobe Bryant, Olympic hopeful Norris Frederick turned to revolutionary Platelet-Rich Plasma (PRP) therapy to relieve pain. The athlete reported significant relief after receiving PRP injections by Dr. Bill J. Releford of Beverly Hills PRP. Dr. Releford, doctor of podiatric medicine, finds PRP therapy beneficial in his practice, using it to treat sports-related and orthopedic injuries, and many other conditions.
Dr. Releford is the medical director and founder of The Releford Foot and Ankle Institute and Beverly Hills PRP. He describes how he used PRP injections to treat the American long jumper: "After suffering a knee injury, the patient was treated with a series of two injections of platelet-rich plasma over a four-week period. The most significant initial subjective findings showed reduced pain and moderate to significant increases in range of motion." Frederick plans to continue his quest for gold at the 2016 Olympic Games in Rio de Janeiro, Brazil.
About Platelet-Rich Plasma Therapy
PRP therapy is an innovative, non-surgical approach that uses healing components derived from a small, concentrated amount of a patient's own blood. Injected into damaged tissue, PRP therapy has the potential to "supercharge" the healing process. PRP has been successfully used in orthopedics and sports medicine to treat joint and tendon pain, ankle sprains, heel pain, non-healing wounds, plantar fasciitis, poor circulation, diabetic neuropathy, and many other conditions, as cited in the Journal of Orthopaedic Research (Jan. 2006). Recently, PRP therapy has made headlines due to its successful use by professional athletes like Tiger Woods, Kobe Bryant, Alex Rodriguez, and Rafael Nadal.
About Dr. Bill J. Releford, D.P.M.
Dr. Bill J. Releford, D.P.M., a graduate of the Temple School of Podiatric Medicine in Philadelphia, began his practice in 1990 and established the Diabetic Foot Institute, a facility dedicated exclusively to the reduction of diabetes-related amputations in high-risk populations. Dr. Releford is recognized both domestically and internationally as a leader in the field of diabetic limb preservation and wound care, and recently received prestigious awards from the Association of Black Cardiologists and the Regional Black Chamber of Commerce for his contributions to public health.
Dr. Releford is an assistant professor at Charles R. Drew University and lectures worldwide about the latest techniques in limb salvage and community-based outreach. He authored the book "Five Colors A Day to Better Health," and has been featured on "NBC Nightly News" with Brian Williams, ABC's "The View," and in The Washington Post, Newsweek, and The Los Angeles Times.
His community outreach and health-care advocacy efforts are facilitated through the Diabetic Amputation Prevention Foundation (DAP), a non-profit organization he founded in 2001. Its mission is to educate at-risk populations to better understand diabetes and its complications through community-based programs.
Dr. Releford and the DAP Foundation have been recognized for the success of the Black Barbershop Health Outreach Program. Since its inception in December 2007, the program has screened over 25,000 men for diabetes and hypertension in more than 450 black-owned barbershops in over 26 cities.