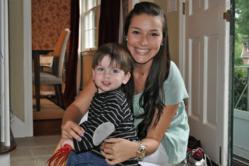 Look for something that really 'grabs' you and allows you to picture her fitting in well into your family.
Cambridge, MA (PRWEB) May 01, 2013
Au pairs are young people from abroad who, in exchange for living in your home as a family member, provide up to 45 hours per week of personalized childcare. Although all au pair candidates are carefully screened, how do you choose the right au pair for your family?
> An application that grabs you
Once you have applied, you will have access to an au pair candidate's complete application, including a description of childcare experience, references and interview evaluation. With Cultural Care Au Pair, you will be the only family reviewing that candidate, so take your time. In addition to feeling comfortable about her childcare experience, there should be something in her application that really "grabs" you and allows you to picture her fitting in well with your family -- something about her interests, her essay, or something one of her references or interviewer has said about her as an au pair candidate.
> An interview that impresses you
The next step is to conduct an interview by telephone or Skype. Keep in mind that personality is often as important as childcare experience in determining a successful placement. Au pair candidates may not be used to speaking English on the phone right away, so be patient, ask lots of open ended questions and make a least two calls. Look for a connection with the au pair candidate during your conversation.
> A video that makes you smile
Cultural Care gives you a more personal look at the au pair candidates you are considering through videos produced by the au pairs themselves. Be sure to review the videos and again, look for something that you can relate to. These videos give au pairs an opportunity to show their motivation and personality.
For more information on au pairs and detailed interview questions and tips, visit http://www.culturalcare.com or call 800-333-6056.