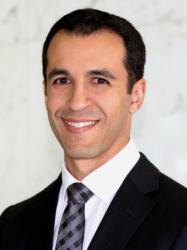 For high-risk patients, this is an especially useful tool to detect abnormal growths with greater accuracy and precision.
Beverly Hills, CA (PRWEB) May 06, 2013
If you are in the city of Los Angeles, Beverly Hills, and surrounding areas, you can now select the latest in colorectal cancer screening known as the Third Eye Colonoscopy. Board-certified gastroenterologist, Dr. Ari Nowain of the Center for GI Health, is one of the few doctors offering this advanced procedure to his patients in hopes of detecting colorectal cancer earlier and with greater accuracy than traditional methods.
The Third Eye Colonoscopy is an advanced device, used during a colonoscopy, to gain a more complete view of the colon lining. As opposed to the traditional colonoscopy that only performs forward viewing of the colon, the Third Eye Colonoscopy utilizes a forward and backward viewing camera. This additional viewing capability allows physicians to better detect abnormal growths in the colon, which if not removed, can lead to colorectal cancer.
"For high-risk patients, this is an especially useful tool to detect abnormal growths with greater accuracy and precision," said Dr. Nowain, a GI doctor in Los Angeles. "Patients undergo the same preparation and ultimately the same procedure as a standard colonoscopy, however the device used is more advanced in its capabilities. It's truly a revolutionary development."
This latest addition to the colonoscopy family makes a significant difference in detection and prevention of advanced stage colon cancer. The fact is, Third Eye® colonoscopies locate as many as 25 percent more polyps. For those with a history of polyps or family history of colon cancer, there is up to a 40 percent increase in polyp detection with this advanced technology.
As a way to promote and educate patients on the procedure and its benefits, Dr. Nowain has developed a video detailing the Third Eye Colonoscopy at work. The video outlines the capabilities of this new technology as well as its positive impact on providing detection of polyps and its level of accuracy.
"I am excited to be able to offer my patients this level of diagnostics," said Dr. Nowain. "While colonoscopies are the benchmark when it comes to screening for colon cancer, Third Eye Colonoscopies exceeds even that metric by offering a higher rate of polyp detection."
Ari Nowain, M.D. is double board-certified in Gastroenterology and Internal Medicine and practices in Beverly Hills, California. Trained to diagnose and treat conditions of the digestive tract - with special training in colonoscopies, Dr. Nowain is committed to providing high quality, accessible medical care to his patients. He completed medical school, residency and a three-year fellowship in Gastroenterology and Liver Diseases at the University of Southern California, Keck School of Medicine. He performs outpatient procedures at La Peer Health Systems in Beverly Hills.
The Center for GI Health is located in Beverly Hills, CA and offers specialized services focused on gastrointestinal and digestive disorders. Procedures include: hemorrhoid banding, colonoscopy, upper endoscopy and capsule endoscopy. Dr. Nowain and his staff at the Beverly Hills Center for GI Health are committed to providing high quality medical care that is easily accessible to every patient.
Learn more about Dr. Nowain's practice and the Third Eye Colonoscopy at http://www.CenterGIHealth.com.