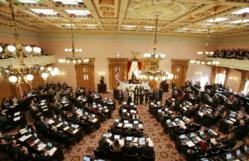 Columbus, Ohio (PRWEB) May 02, 2013
Small business community in Ohio were represented in a big way at the Ohio House Ways & Means Committee last week when Dan Robins, president of Horizon Business Solutions testified on their behalf to reform Ohio's municipal tax system. Seeking reform for the cumbersome and unfriendly tax system on both employers and employees, Robins vocalized his support for the House Bill 5, a Bill embracing the creation of a uniform set of tax rules across all municipalities in Ohio.
Horizon Business Solutions works with small business owners helping them navigate the complex tax laws and requirements at the local, state and federal level by providing accounting, bookkeeping, payroll, and technology support and services.
"As a practitioner I have the opportunity to process and review tax returns and payroll for many, many clients," exclaimed Robins. "I see the nuances and variances that exist across jurisdictional lines. I can tell you that our municipal tax system is incredibly complex and confusing. My typical client, the small business owner, would struggle, at best, to try and keep pace with the changing laws and understand the nuances that exist."
Ohio is the only state in which every city sets its own rules and regulations about who must pay taxes, how much and on what type of income. More than 600 local government entities have devised more than 300 different tax forms. Ohio House Bill 5, introduced by Reps. Cheryl Grossman of Grove City and Michael Henne of Clayton, helps streamline local rules, forms and definitions of income to make Ohio's municipal income-tax system simpler.
"For example, if a small business owner worked in a municipality or more that 12 days in a year, they would be required to file its tax forms," says Robins. "Many small businesses pay more to the accountants and lawyers helping them wade through the endless sea of tax forms than they actually owe in taxes," he added.
Some municipality leaders oppose the Bill saying it will cost cities money and change when cities are permitted to start levying an income tax, and on whom.
"Again, I am here to share with you my perspective on what ails Ohio's municipal tax system," say Robins. "I believe House Bill 5 will help address this complexity by creating a near uniform set of rules so I know that regardless of where my client has or is doing business the rules of the game are the same."
About Horizon Business Solutions (HBS)
Since 1981, Horizon Business Solutions has been providing unique full-service accounting services to small and medium sized businesses with revolutionary ways to manage bookkeeping and accounting. These services include helping entrepreneurs navigate the complex tax requirements at the local, state and federal level by providing accounting, bookkeeping, payroll, and technology support and services.