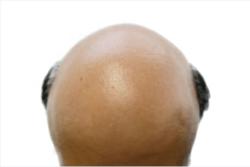 "Dr. Umar is so respected as the foremost authority in the field of restoring and repairing severely bald cases that people travel across the globe for his expertise."- Tom Joyner
Los Angeles, California (PRWEB) May 02, 2013
The Tom Joyner radio show is nationally syndicated with an audience of about 8 million listeners. Past guests have included: Michelle Obama, Alicia Keys and Whitney Houston. On Wednesday, April 17, 2013, Dr. Sanusi Umar, who specializes in restoring severe baldness, also appeared as a guest on their segment, to speak about hair loss and transplantation surgeries.
In his introduction statement, Joyner introduced Dr. Umar as "so respected as the foremost authority in the field of restoring and repairing severely bald cases that people travel across the globe for his expertise." And later the show, the doctor mentioned that his success rate is in the 90 and above percentages. He also added that nearly all his patients are able to come out ahead.
Dr. Umar shared how he is able to help those with advanced stages of hair loss and answered questions about restoration procedures.
HOW SEVERE BALDNESS CAN BE RESTORED
Up until this point, extreme baldness has been considered to be too late for hair transplant procedures. Dr. Umar has changed this paradigm through a methodology that he has developed called uGraft. With specialized protocols and tools, he is able to harvest a much greater donor pool of follicle grafts from areas of the body such as: the beard areas on the face, arms, legs, chest, abdomen and back.
There is no linear scarring. Body regions heal exceptionally well without visible marks. And severely bald patients are able to achieve excellent coverage and fullness without the need for hair pieces.
DR. UMAR'S ANSWERS TO COMMON QUESTIONS ABOUT HAIR LOSS
Tom Joyner was joined by his co-host Sybil Wilkes in asking questions that many people share when it comes to losing hair and getting a hair restoration procedure. A few of these included:
(1) Is it ever too late to get a hair transplant?
Dr. Umar answered that it is never too late for a restoration surgery. He confidently stated, "You can have a hair transplant till the very last day." This is due to the ability of uGraft procedures to acquire hair follicles from other areas of the body to achieve the desired level of coverage.
(2) Is it painful to undergo a transplantation procedure?
Dr. Umar explained that local anesthesia is used to minimize pain during the procedure.
(3) When can results be seen?
The real potential of the outcome can usually become noticeable around 7-8 months following the procedure.
(4) Are more women seeking the help of hair restoration?
It is common for women with Traction Alopecia to seek hair transplant as an option. Hair loss from this condition usually occurs along the margins of the head. This results from grooming practices that constantly pull the hair and damage the follicles.
(5) Are there any side effects from a hair transplantation procedure?
Dr. Umar explained that possible complications can occur from these surgeries. And they are usually quite minor. But it is common to experience bleeding. Sometimes, pimples may form on the sides on the grafts. But this is quite treatable.
Overall the segment was very entertaining and comedic. The entire recording is available here.