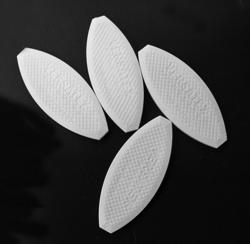 Rick Kapres, VERSATEX Vice President states, "We've added white, #20 plastic biscuits to our comprehensive PVC trim system. They're dimensionally stable and precision molded for easy installation."
Pittsburgh, PA (PRWEB) May 01, 2013
According to VERSATEX Vice President of Sales Rick Kapres, "Our friends in residential construction like the strength and easy handling they get with biscuit joining, although they told us they don't like compromising on moisture resistance by joining PVC boards with conventional wood biscuits.
"That's why we've added these white, #20 plastic biscuits to our comprehensive PVC trim system," he said today. "They're dimensionally stable and precision molded for easy installation." Available from VERSATEX distributors nationwide in boxes of 25 or cartons of 10 boxes, the biscuits enable builders to make tight, permanent joints using standard carpentry techniques and PVC adhesives.
Biscuit joints, Mr. Kapres said, are an increasingly popular solution for aligning and securing joints in fascia and frieze applications as well as window and door trims and millwork.
VERSATEX Trimboard products are available from fine millwork distributors nationwide. They're manufactured by Wolfpac Technologies of Pittsburgh, Pa., whose state-of-the-art facility produces cellular PVC trimboards, sheet, beadboard, mouldings and prefabricated corners, as well as the innovative VERSATEX soffit system. VERSATEX products are 100 percent engineered, formulated and manufactured in the U.S.A. For more information, visit http://www.versatex.com.