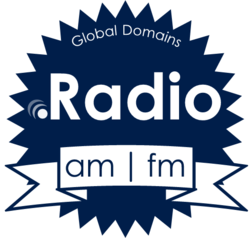 Radio.am and Radio.fm Global Domain Extensions will foster; true innovation, openess and actual consumer choice on the Internet
San Francisco, CA (PRWEB) May 01, 2013
BRS Media, a diverse and growing media e-commerce firm that assists traditional and interactive media companies build and brand on the power of the Internet, today announced the set launch date of Radio's New Global Domain Extensions [Radio GLDs] this month.
The Radio Global Domain Extensions under .Radio.am and .Radio.fm will launch the Sunrise Period for trademark owners worldwide on May 28, 2013. TM.Biz will operate the Sunrise Period for the Radio.am and Radio.fm Global Domains, and TM.Biz will validate both trademark applications as well as Signed-Mark-Data (SMD) files from ICANN's Trademark Clearinghouse (TMCH). The rules and procedures for the Radio Global Domain Sunrise Period will follow the same rules published by ICANN for the validation of trademarks into the Trademark Clearinghouse. In addition, the sunrise will offer an Industry first, flat rate application fee with validation block on both GLDs. This sunrise fee, to accredited registrars, will cover the trademark application, and upon validation a full 10 year block awarded in both Radio.am & Radio.fm Global Domain Extensions.
Most leading brand management Registrars like Corporation Service Company (CSC), Encirca, IP Mirror, ComLaude, Lexsynergy, 1API GmbH, 101Domain and more, will be accepting .Radio.am and .Radio.fm sunrise registrations.
"We look forward to the first phase of the Roll-out Plan for Radio's Global Domains", remarked George T. Bundy, Chairman & CEO of BRS Media Inc., "The Radio.am and Radio.fm Global Domain Extensions will foster; true innovation, openess and actual consumer choice on the Internet. Our depth of experience and understanding in the market demonstrates our commitment to guide the Radio GLDs in a professional, reliable and all-inclusive way."
The Radio Global Domain Extensions under .Radio.am and .Radio.fm are designed for Bootstrap Start-Ups, Small Office/Home Offices (SOHO) Entrepreneurs, Social Media Ventures, Streaming Enterprises and Traditional Broadcasters worldwide, while at the same time encouraging originality in expanding the RADIO global domain space. Radio GLDs Information and additional details are available at http://Radio.am & http://Radio.fm.
The Radio Global Domains Phased Roll-Out Plan TimeTable:
Phase 1: Sunrise - 18:00 GMT, 28th May, 2013 to 23:59 GMT, 28th June, 2013
Phase 2: Landrush - 18:00 GMT, 1st July to 23:59 GMT, 31st July, 2013
Phase 3: General Availability - 18:00 GMT, 3rd August, 2013
Registrars can easily add .RADIO.AM & .RADIO.FM to their current .FM Registry account, utilizing the same EPP registry solution, by contacting BRS Media directly at: 1.888.DOT.AMFM (1.888.368.2636)
The New Registrar and Resellers Accreditation is still open and interested registrars and domain resellers can get information at http://Radio.fm/Launch/
About BRS Media Inc:
Based in the South of Market district (SoMa) of San Francisco CA, BRS Media (http://brsmedia.fm) is listed as one of the fastest growing privately held companies by the SF Business Times and Inc. Magazine for an astounding 5th consecutive year, its portfolio of leading online properties includes: dotFM® & dotAM®, over 15 years of Domain Innovation and Brand Registry Services for media based .FM and .AM domains; .Radio.am & .Radio.fm, Radio's New Global Domain Extensions (GLDs); @Radio.am & @Radio.fm, free & premium Web based email services; dotRadio™, the .RADIO Top-Level-Domain; iDotz.Net domain registrar of all gTLD domains (.com .net & .org), as well as, boutique domains (.tv .co .me .la & .im) and the ever-popular Web-Radio, the leading portal for "tuning in" Radio on the Internet. dotFM, dotAM and dotRadio are either registered trademarks or trademarks of BRS Media, Inc.