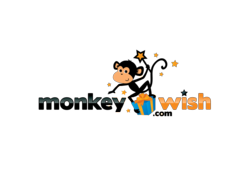 Gainesville, FL (PRWEB) May 01, 2013
MonkeyWish (http://www.monkeywish.com) and Evite (http://www.evite.com) have announced a strategic partnership that will make MonkeyWish's gift registry services available on Evite.com. MonkeyWish's universal gift registry provides a simple, free solution for Evite hosts to point invitees to the perfect birthday gift for a party's guest of honor.
"There's a natural affinity between party hosts, guests, and gifting," said Ed Gross, Evite Director of Business Development and Monetization. "At Evite, we're always looking for ways to enhance the party-planning experience, and we're delighted to be able to offer MonkeyWish's gift registry services to our community."
"A partnership with Evite is the perfect way to alleviate the frustration of gifting for party guests, and help the guest of honor feel special," said MonkeyWish founder and CEO Kristi Taylor. "We all love to give the perfect gift, and our goal is to put the fun back in giving."
MonkeyWish's gift registry will be available on Evite.com starting May 1st. After creating a birthday invitation, Evite users will be offered the option of creating a gift registry wish list. When the wish list is completed, MonkeyWish will provide a hyperlink to embed in the party invitation.
MonkeyWish is a one-of-a-kind universal gift registry, providing what most registries do not: the ability to add any item from any store for any occasion. Most online gift registries are limited to a specific retailer or genre. MonkeyWish allows members to add any item through the online site or the mobile application, which includes a UPC barcode scanner.
"Never again does anyone have to go to a party or a shower with a gift card in hand," added Taylor. "Now, you can feel confident you are giving someone exactly what he or she wants. That feeling is priceless."
Both Evite.com and MonkeyWish.com are completely free to use.
ABOUT EVITE
With over 31 million registered users, Evite (http://www.evite.com) is the leading digital invitation and social event planning brand. Evite's free, easy-to-use invitation designs kick off more than 7 million parties and gatherings every year. With 28,000 invitations sent every hour, and party-planning tools that handle hundreds of millions of RSVP's annually, Evite is responsible for more celebrations than any other online brand. Launched in 1998, Evite is headquartered in Los Angeles and is a wholly-owned, operating business of Liberty Interactive Corporation (NASDAQ: LINTA, LINTB).
ABOUT MONKEYWISH
MonkeyWish.com is the supreme digital gift registry; uniting retailers, wishers, and those wishing to give the perfect gift. Launched in 2012, MonkeyWish has 167 established retail affiliate partnerships. MonkeyWish's easy-to-use website and mobile application revolutionizes gift registry, and brings gifting into the social media driven twenty-first century. MonkeyWish is headquartered in Gainesville, Florida, and is privately owned.