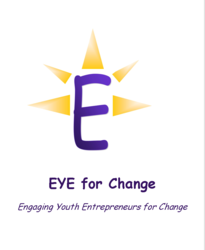 Natasha Muhammad Quote "Its all about exposure. This conference exposes students to the possibility of being an entrepreneur
Baltimore, Maryland (PRWEB) May 01, 2013
Omar Muhammad Quote "EDAC supports entrepreneurs at all levels. Its especially important we teach young people the necessary skills to start their own businesses now."
In partnership with the Entrepreneurial Development & Assistance Center (EDAC) at Morgan State University, EYE for change will co host #EYECON, the premiere youth conference to help students start their own businesses, on Thursday, May 2, 2013 from 8:00am - 2:30pm at Morgan State University's Student Center.
The objective of the conference is to help youth pursue entrepreneurship as career option and employ an entrepreneurial attitude to excel and remain competitive in the workforce. This year's theme is "#EYECON". #EYECON is a play on the word "icon" and "EYE conference". Youth will be challenged to be the image and symbol of excellence in entrepreneurship. The conference also features Science, Technology, Engineering, and Mathematics (STEM) coupled with entrepreneurship. The innovative workforce of the future will require young people to demonstrate skill and expertise when pursing careers. It is important youth understand the importance of STEM and pursue entrepreneurial endeavors in the field.
The conference will kick off with a step show from City College S.W.T.T. step team and remarks from the conference committee members Ian Harpool of Most Dope Photography, Kayla McDaniel, an independent recording artist and Ayannah Jefferson EYE for Change aluma. It will feature eight interactive workshops like "Money Trees", "All Gold Everything" and "Whet Your APPetite". Workshops will run simultaneously allowing students to attend up to three. In addition, EYE for Change will hold and announce the winners of the "Biggest Boss" competition. The luncheon will feature cash prizes and a showcase of local talent. The afternoon marketplace will features youth entrepreneurs and service providers.
Lastly, there will be time allotted to network with students from other schools, play games, visit vendors, and receive giveaways. The conference is open to youth ages 10-18, school personnel, community leaders, and parents who have an interest in youth entrepreneurship skills training. Registration is available online at http://www.eyeforchange.org
EYE for Change, Inc (Engaging Youth Entrepreneurs for Change) is a 501c3 not for profit organization that empowers and prepares youth to become competitive in a global economy through entrepreneurial skill building. For more information please visit http://www.eyeforchange.org.
EDAC connects budding & existing entrepreneurs to resources for venture management & growth. http://www.edacmorgan.com
FOR IMMEDIATE RELEASE-April 17, 2013
Contact:
Omar S. Muhammad
Director
EDAC at Morgan State University
1700 E Cold Spring Lane Suite 102B
Baltimore, MD 21251
(443) 885-3663
omar(at)edacmorgan(dot)com
http://www.edacmorgan.com
Distributed by http://www.DAASN.com