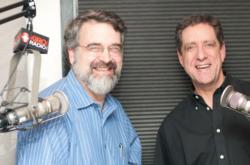 As a rule, I don't care for podcasts.... Enter The Boss Show. It's entertaining and full of great information.... I was hooked.
SEATTLE, WA (PRWEB) May 07, 2013
According to a blogger at the popular business website Inc.com, The Boss Show is "the one podcast you should be listening to."
"As a general rule, I don't care for podcasts," writes Lucas, who blogs as "The Evil HR Lady." "Most podcasts are dry, way too long and devoid of any good information. Enter The Boss Show. It's entertaining, short enough to keep your attention, and full of great information…. I was soon hooked.
"The hosts, Steve Motenko and Jim Hessler, are a psychology expert and a business expert, respectively," Lucas notes. "Their show helps people who have bosses, or who are bosses, navigate the world of work."
Boss Show co-hosts Hessler and Motenko created the weekly podcast two years ago to "offer value, in an entertaining format, to anyone who cares about improving her experience in the workplace," Motenko is quoted as saying in the Inc.com blog post.
"Why do so many podcasters think an entertaining podcast is an oxymoron?" Motenko continues. "Jim and I don't have the patience to listen to dry podcasts, let alone create one."
He suggested to blogger Lucas that people "only listen to our podcast if (1) they want to take some responsibility for making work a better place to be; and (2) they prefer 'witty and wise' over 'dry and boring' for their commute or their treadmill or their weeding experience."
The Boss Show bills itself as "workplace wisdom with heart and humor." Hessler and Motenko address a different topic of the workplace experience each week. The co-hosts often engage in lighthearted, slightly irreverent banter, both between themselves and with their guests.
"People spend a third to a half of their waking hours at work," Motenko says in Lucas' article. "Why not do everything they can to make it a place where they can thrive, rather than just survive?"
For more information on The Boss Show: http://www.TheBossShow.com