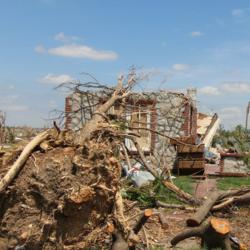 ...This video gives first hand proof that no words can explain..
Poseyville, IN (PRWEB) May 02, 2013
Nix Storm Shelters are Engineer approved to resist winds up to 250 miles per hour. What if that wind was pushing a full size conversion van through the air. This was the question Matthew Nix thought when he decided to drop a full size conversion van on one of his company's tornado storm shelters, not once, not twice, but three times.
With over 100 years in business, welding has changed dramatically over the years. The longevity of the company has allowed the 5th generation Nix's to become very innovative. Their latest high quality product is their tornado storm shelters. It is hard to forget that in 2011 553 Americans lost their lives to tornadoes, and thousands more individuals suffered severe life altering injuries. In 2013 there have already been 137 confirmed tornadoes and, the official storm, season has not even started.
The Nix tornado storm shelters are designed to resist destruction and penetration during tornado force winds and are built to FEMA standards. At Nix, they felt that they had a responsibility to produce a shelter of the highest quality,also affordable for families and more importantly will save lives. The storm shelters are fabricated with 2" structural square tube frame and 1/4" steel plate on the sides and roof. Nix Storm shelters can be anchored to existing foundations, garage floors, or any other, sufficient concrete surface. The steel door opens inward, allowing exit in case of objects landing in front of or against the shelter. The door's sliding latch system is quick, easy and exceptionally strong with 3 high grade 3/4" vault door style pins.
When asked, why he wanted to shoot this video? Matthew Nix replied " I can tell people how good our product is all day long, but this video gives first hand proof that no words can explain." With a Nix storm shelter.
You can protect your family from future devastation of tornadoes!