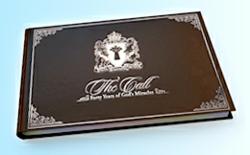 (PRWEB) May 01, 2013
On May 28, Trinity Broadcasting Network will kick off a months-long celebration of its 40th anniversary as the leader in faith and family-friendly television. And to help friends and viewers join in the fun and excitement the network has launched an online Facebook contest.
Reba Toney, TBN's director of Social Media, said that participating in the contest is easy. "First of all, you have to become a TBN Facebook friend, which gives you access to all the daily news, updates, and information on TBN's great programming," she explained. "Then everyday through June 1 we are posting a photo from TBN's upcoming 40th anniversary book, with a well-known personality, location, or iconic emblem connected with TBN blurred out of the picture. Everyone who guesses the blurred out piece of the photo correctly is entered into a daily and weekly prize drawing — along with a final grand prize drawing at the end of the contest."
Ms. Toney said that prizes for the contest include exclusive jewelry, art, commemorative gift sets, tickets to TBN's Holy Land Experience in Orlando, Florida — and even an Apple iPad. "Our goal is to make sure our viewers around the nation are aware of TBN's incredible Facebook experience, and to alert them to our upcoming 40th anniversary commemorative book."
That book, entitled The Call: Forty Years of God's Miracles, has been nearly a year in the making. Scheduled for release in May, The Call includes over a thousand vintage and full-color photos, along with a fascinating narrative that offer an up-close and personal look at the miraculous development of TBN from one small, struggling station in Southern California to a 24-member family of global Christian networks broadcasting life-changing programming around the clock to every inhabited continent.
"The Call has been a special labor of love for me personally," said TBN Vice President Matthew Crouch, whose parents, Paul and Jan Crouch, launched the network in 1973 and have been its guiding force for the past 40 years. "I am excited to share it with our many friends and partners, as we celebrate TBN's storied past and look to a future of continued fruitfulness in God's kingdom."
To find out more about TBN, and to join the daily contest, log onto TBN's Facebook page.