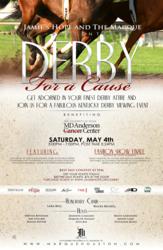 Houston, Texas (PRWEB) May 02, 2013
As people all across the world pause to watch the "most exciting two minutes in sports," the Jamie's Hope Foundation will host the second annual Derby for a Cause event on Saturday, May 4, 2013 at the Marque in City Centre, Houston, Texas. Proceeds from the event will benefit Targeted Therapy research at The University of Texas M.D. Anderson Cancer Center.
The extravagant "Running of the Roses" viewing party will kick off at 3pm and continue on until 7pm. Guests will enjoy watching the 139th Kentucky Derby while being entertained by the ever popular Jazz & Blues band, Terry & Blue Birds. Derby-goers will partake in complimentary signature cocktails and hors d'oeuvres. Festivities will include contests: best hat for the ladies, and best attire for the men. A silent auction and ongoing door prizes are sure to be crowd-pleasers.
Stay until the end for the newly added Fashion Show Finale! Hosted by Style Current, the show will feature fashions by Festari for Men & Cakewalk Style Boutique. Accessories provided by Lilah Gabriel & models by Time Talent Agency. So grab those derby hats & throw on the seersucker suits... it's Derby time!
Take advantage of the early discounted pricing of $60 available online at http://www.JamiesHope.org/Derby. If still available, tickets will be $75 at the door. Sponsorship opportunities for organizations, businesses and individuals are being offered for those looking to take part in this outstanding event. Visit the FACEBOOK EVENT PAGE for up to the minute details: https://www.facebook.com/events/468485303220517/.
Come decked out in your lavish derby hats and seersucker suits, and join Jamie's Hope at the truly astounding event to raise funds for M.D. Anderson Cancer Center.
The Marque is Houston's elite and most talked-about lounge. Opulent and lavish in every way, it provides a place to relax and entertain in style. The Marque is an exclusive event location for the truly extravagant.
"I am so grateful for the support we've been receiving! Without it we'd never be able to produce such a tournament nor raise the funds needed for this ground breaking cancer therapy research. I can't thank everyone enough!" -Jamie Gilmore, founder.
Special thanks to our current event sponsors... Greenberg, Grant & Richards, Inc., ProActive Media Group, Brand New Media, Adam Dallas Designs, Style Current, Lilah Gabriel, Time Talent Agency, Festari for Men, Cakewalk Style Boutique.
The Jamie's Hope team works year-round to produce top-notch fundraising events benefiting Targeted Therapy cancer treatment research at The University of Texas MD Anderson Cancer Center! The successes of these events are credited largely to our sponsors who lend their names and financial support. By participating as a sponsor, your organization will benefit from extended exposure through media campaigns and promotional efforts. For a small donation, you'll be able to enjoy excellent exposure to an important segment of your target audience while helping Jamie's Hope accelerate groundbreaking cancer treatments. For more information on being a sponsor, please contact Amanda(at)JamiesHope(dot)org.