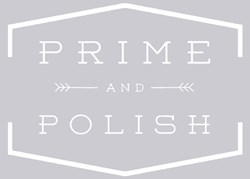 "I started Prime and Polish not only so I could combine my passions into my dream job, but because I truly believe in the importance of home." - Jessica Moriarty
Minneapolis, MN (PRWEB) May 01, 2013
Prime and Polish, a realistic home décor boutique is excited to open their doors for the Grand Opening on Thursday, May 2nd from 6pm to 9pm in Minneapolis, MN. Jessica Moriarty, Founder and also a Minnesota native, wanted to create a place to call home by catering to individual styles and various budgets.
At Prime and Polish you can find a variety of unique, one of a kind pieces at a realistic price. Moriarty wants home decor to be fun and attainable; which is why she will also offer design services, entertaining tips, and "Do it Yourself" classes.
"I started Prime and Polish not only so I could combine my passions into my dream job, but because I truly believe in the importance of home. It's where our day begins and ends, it's our safety net, a place to gather with loved ones and create memories, and above all it's a place that is completely ours," says founder, Jessica Moriarty.
Inside the walls of Prime and Polish customers will be able to find unique pieces for their home ranging from rustic to elegant and vintage to modern. The store will carry an eclectic array of merchandise to help every homeowner find the perfect pieces to make their home truly their own and at realistic prices.
Starting her career with a major in psychology from Gustavus Adolphus College, Moriarty has always been passionate about helping others. After working in the industry for several years, she decided that her heart wasn't with psychology and decided it was time to change directions.
Moriarty then began working with an interior design firm, Bella! Design for Living along side working at Primp Boutique in St. Paul, MN. It was at that point where she found her passion for interior design, home décor and styling and her dream of Prime and Polish was born.
It is important to Moriarty that she not only helps her clients, but also those who are less fortunate and need an extra hand. In the coming months she plans to have various fundraising events and volunteering opportunities to help those in need have a place to call home as well.
Store Information
Hours: Monday Closed, Tuesday-Saturday 10-6pm, Sunday 12-5pm
Address: 612 W 54th St, Minneapolis, MN 55419
Phone: 612-824-1743
Website: http://www.primeandpolish.com
FB: http://www.facebook.com/primeandpolish
Twitter/Instagram: primeandpolish