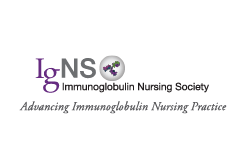 The IgNS certification demonstrates that Immunoglobulin nurses have the knowledge and skills to handle complex clinical situations throughout the continuum of care
Los Angeles, CA (PRWEB) May 01, 2013
The Immunoglobulin Nursing Society (IgNS) announced the development of the first certification program for immunoglobulin nurses. The ultimate goal of the IgNS certification program is the protection of patients receiving immunoglobulin therapy and nursing care, through the demonstration of competence and standardization of immunoglobulin nursing practice.
Launching in February 2014, the IgNS certification program will provide assessment, validation, and documentation of the knowledge, skills, and overall clinical competence of nurses who manage and administer immunoglobulin therapy.
"This is an important achievement not only for the certificants, but for the immunoglobulin nursing profession as a whole," said Jane Kirmse, RN, president of IgNS and Clinical Nurse Specialist, Infusion Therapy, at the Mayo Clinic Department of Nursing. "The IgNS Certification elevates immunoglobulin nursing by establishing professional standards, validating competence, and facilitating the recognition of this nursing specialty."
Specifically, the IgNS certification credential will help nurses to:

Increase their professional credibility, and document their competence, knowledge, and skills.
Demonstrate to the employers and their patients that they have the most up-to-date skills and
knowledge.

Improve patient safety, satisfaction, and deliver the highest level patient care.
Possessing an IgNS credential will enable immunoglobulin nurses to advance their careers. "It will empower nurses to be confident clinical decision-makers as well as allow prescribers to feel more secure in the knowledge that their patients will receive safe and competent care." said Amy Clarke, RN, chair of the IgNS certification committee and Program Manager, Specialty Infusion Services at Diplomat Specialty Pharmacy.
The credential will also provide assurance to employers of immunoglobulin nurses. "The IgNS certification demonstrates that immunoglobulin nurses have the knowledge and skills to handle complex clinical situations throughout the continuum of care," said Anne Danner, National Director of Nursing at Walgreens Infusion Services. "It reduces hiring risk because the IgNS certification credential holders are dedicated to the field and committed to professional development."
IgNS has enlisted Applied Measurement Professionals (AMP), a leader in certification development in various health, government, and technology fields, to provide assessment, evaluation, and management solutions in the examination development, as well as secure, standardized computer-based test administration.
The IgNS certification program will be open to Ig nurses who meet eligibility requirements based on their education and experience, and will be administered at computer test centers nationwide.
For more information about the IgNS certification, please contact info(at)ig-ns(dot)org.