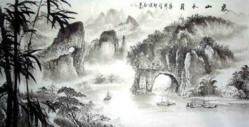 (PRWEB) May 01, 2013
Recently, Artisoo.com, a reliable online supplier of Chinese paintings, has launched a site-wide Chinese painting promotion. i.e. All its products (including Chinese landscape paintings, Chinese horse paintings, and more) are available at discounted prices, up to 75% off.
"We are extremely excited to launch the promotion to make Chinese paintings available to more people worldwide. Chinese art is recognized for its extraordinary aesthetics which portray Chinese culture, traditions and customs. We are striving to bring new and talented young artists to the limelight by exhibiting their amazing paintings to the world of art lovers," says Vincent Zhou, CEO of Artisoo.com.
Vincent Zhou adds, "If your favorite oil painting is not in our collection, please kindly let us know. We can paint it for you, and even paint from photos. We believe the purchasing of high-quality paintings at Artisoo.com must be a happy shopping experience," says Vincent Zhou, CEO of Artisoo.com.
Thomas, a customer from London, said, "I ordered one piece of Chinese horse painting from Artisoo last month, and that was my first shopping experience online. The Artisoo staff is patient with all my questions, and I received the shipment on time. It is extremely beautiful. I will upload some photos on Facebook soon. Thanks a lot!"
About Artisoo.com
Founded in 2009, Artisoo.com is a leading supplier of oil paintings and Chinese paintings. The company has achieved success due to its striving for excellence in all aspects. They handle both interior painting and exterior painting for customers with the utmost attention to detail and dedication to quality.