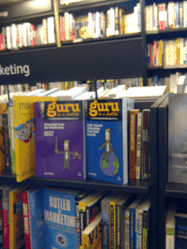 As a graduate in English language and literature from Oxford University, I hope you'll forgive my saying that the Guru in a Bottle Series is where it's at.

Professor Malcolm McDonald
(PRWEB UK) 3 May 2013
Sales of the new Guru in a Bottle Series - Essential Law for Marketers 2nd edition, The Art of Influencing and Selling and High Impact Marketing that Gets Results are about to break the 10,000 barrier as Europe's biggest bookstore has decided to stock the whole series.
It's really tough for fiction and non-fiction authors to get their books onto the shelves of bookstores anywhere in the world and in London, it's even more competitive.
The biggest high street retailer in the UK is Waterstones and its flagship store in London's Piccadilly is also Europe's biggest bookstore that merchandises over 200,000 titles.
Waterstones' decision is based on the potential of all three books to out sell others in the same categories. The new Guru in a Bottle Series is available throughout Waterstones' outlets and online shops and presents a real coup for publishers Kogan Page.
Sales currently exceed 6,000 copies since publication in January 2013 and the books are now among the fastest-selling for Kogan Page Worldwide.
Waterstones' decision to stock the Guru in a Bottle Series is a massive endorsement to the quality of all three books within business, marketing & sales and law categories and its appeal for those who have one year experience or less in sales and marketing.
It's also testament to the success of the philosophy behind the series which is to take technical, high-level subjects and making them clear, human and accessible.