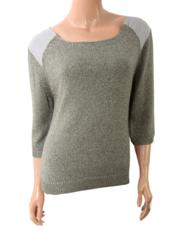 As we approach our 55th anniversary in this business, experience & constant innovation will pave our way further for future growth
London, United Kingdom (PRWEB UK) 3 May 2013
Q Clothing, one of the most sensational names in UK's clothing industry, has successfully changed its identity. Q Clothing is no more an ex chainstore wholesale clothing company, as it was recognized in the past. Today Q clothing is a complete fashion store where shoes and accessories are at par with clothing, in terms of demand and volume of sales. Q Clothing announces with great satisfaction that in the last three months it has made a significant achievement in the form of rise in sales of shoes and accessories. One of the leading houses of ex chainstore wholesale clothing, Q Clothing is now a store that can offer you a complete fashion package.
Standing close to its 55th anniversary, Q Clothing has surged way ahead of its business competitors in terms of reputation and business and according to officials of the company it is the innovative outlook of the company that has helped it achieve its goal. In the words of E Hochhauser, chairman of Q Clothing, "As we approach our 55th anniversary in this business, experience & constant innovation will pave our way further for future growth". Experience has indeed helped the clothing company a lot in getting closer to the heart of the buyers. According to many regular customers of Q Clothing, the secret of the company's success lies in its market studying that encourages it to update its products constantly. From the very beginning of its business Q Clothing has been attentive towards updation of stocks according to changing trends in fashion world and that's what has made it a choice for all. Smart business strategy has also helped Q Clothing is surging ahead. Very few clothing companies of Q Clothing's stature can afford to offer percentage of discounts that customers of Q Clothing enjoy. Not only does the company offer discounts on old items as a stock clearance strategy, but also on current and 'just arrived' collections. No matter whether buyers are looking for formal or casual dresses, ladies knitwear, evening dresses, plus size clothes or accessories like sunglasses and handbags, Q Clothing ensures that the buyer finds the price reasonable or affordable.
The second big reason why Q Clothing is a sensation today is that pays equal attention to buyers of all ages. Unlike many other ex chainstore clothing companies in UK, Q Clothing is a company that manufactures and design clothing for men, women, the juniors as well as oldies. Smart, stylish, fashionable and sober, one can get clothing of all varieties and for all members of their family. Availability of a wide range of plus size dresses has proved a plus point for Q Clothing, in terms of business and profit. The company has never ignored the needs of big men and women while supplying products for the 'handsome', 'slim' and 'sexy' buyers. People who wear plus size dresses can choose from an extensive range of dresses here. Q Clothing doesn't believe in the concept that people with big figures cannot try stylish dresses and hence it doesn't design plus size dresses specially but manufactures larger sizes of stylish dresses that are most trendy and stylish.
Right now, over 1300 products of Q Clothing are on display on its website for online selling, which include the best clothing for men, women and children, most stylish shoes and accessories. One can check out the ranges of clothing, shoes and accessories by logging on to http://www.qclothing.co.uk, the official website of the company or by sending mail. For bulk order of products, one can contact Glen Stevens, manager of Q Clothing by dialing 020 8808 1111.
About Q Clothing: Q Clothing is now the other name of 'Quality' and 'Style' Quotient in UK, in terms of trendy wholesale clothing. Since the initial phase of its business, Q Clothing has been conquering heart of people of all ages with its wide range of clothing. Q Clothing ensures that every single clothing item with a great style appeal is there in its collection for buyer. With its huge contacts across the clothing industry in UK and the world, Q Clothing is today one of the biggest names in UK's clothing industry. In the last few years, the company has surged ahead of its competitors with its great collection which has extended from clothing to shoes and accessories. Today Q Clothing is not just a simple clothing store that you can buy shirts, t-shirts and trousers from. Today Q Clothing means complete fashion package.
For More Information Contact at:
Contact Person: Mr Glen Stevens(Manager)
Address: Q Clothing Co, The High Cross Centre, Fountayne Road, London, N15 4BE
Phone No.: 020 8808 1111
Business Email: sales(at)qclothing(dot)co(dot)uk