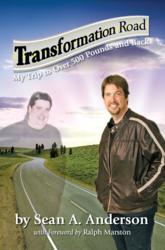 Choose change before change chooses you
(PRWEB) May 07, 2013
Born hungry, as he says, and raised in Oklahoma, Sean has hit the bookstore shelves with his testament for others; that stronger than pills, exercise, and diets plans is a belief that people are responsible for their own decisions deep down inside. The transformation of thoughts automatically blooms on the outside. And, the truly amazing thing about total body transformation isn't exclusively about weight loss. It's about living a life desired with clarity and making the choices that put people in the best position to recognize the symptoms of their eating disorder and then take an impressive level of discipline to achieve recovery.
Transformation Road is not a typical weight loss book. It's about as far from a how-to book as a reader can get, far from the step-by-step approach where many other books have failed so many, including Sean. In this book, and in his emotional and motivational talks, Sean hands over the keys to learning the real reasons habits, and not just eating habits, begin and take such a hold over people's lives. With obesity, it's about looking at food differently. And for Sean, it comes down to no pills, no surgery, and no salad: "I use the salad as an example because I can't tell you how many times I've heard someone say, "If you want to lose weight, you have to eat salads!" It's just not true. If you want to lose weight, you have to eat normal portions of whatever you like, and exercise."
Sean was a man who went from telling jokes behind the radio microphone and from the comfort of the stage in his comedy routines across the country—being his own bully, in other words—to inspiring people one by one with his words, his experiences, and his ups and downs – including the near breakup of his marriage to a supporting and loving wife, and the devastating loss of his brother. Everything Sean says on the radio, on stage, and in Transformation Road is an inspiration to someone somewhere, and for so many applications in life - the ultimate guide to clarity, and eventually, recovery. Sean Anderson changes people by simply relating over and over again that simple premise: Choose change before change chooses you.
Transformation Road is available from Total Publishing and Media. It is listed with Ingram's distribution service (for bookstores and libraries) and on Amazon.com, in all eBook formats, an audio version read by the author, on iTunes and for digital download and CD sets available directly from transformationroad.com. Available in paperback for only $17.95 and eBook downloads for $7.99.
About the Author
Sean Anderson now lives not far from where he grew up in Stillwater and is the proud father of two daughters, Amber and Courtney. His broadcasting career spans more than two decades, and his stand-up comedian career has taken him all the way to the stage of the world famous Hollywood Improv and ABC Television's Jimmy Kimmel Live. Today, Sean writes and speaks about his amazing transformation.
Transformation Road
Published by Total Publishing & Media is available from Amazon.com and...
http://www.TotalPublishingandMedia.com
http://www.transformationroad.com