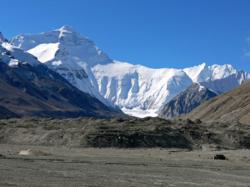 Join a small size group tour from Lhasa to Kathmandu on a low budget. Visit Mt Everest and Kathmandu city highlights!
(PRWEB) May 02, 2013
New Tibet budget tours by Tibet Travel Service-TCTS (http://www.tibetctrip.com) are helping travelers take their trip of a lifetime at lower prices. On the new Everest and Kathmandu Budget Tour travelers can see highlights of Tibet and Nepal, all in one trip. By organizing travel groups of up to around 10 people, TCTS is able to help travelers minimize per person travel costs while preserving the comfort and flexibility of a private tour. Travelers will enjoy the company of a native Tibetan guide while traveling in Tibet and a Nepali guide once the tour reaches Nepal, helping to provide the most authentic perspectives possible. Over the course of this 9-day tour of Tibet, travelers will see important Tibetan cultural and historical sites, visit Mt. Everest, and spend time sightseeing in Kathmandu.

Days 1-4: The first few days of the tour are focused on helping travelers acclimatize to the altitude and become oriented with Tibetan culture. Beginning in Lhasa, travelers will visit places like Potala Palace, Jokhang Temple, and Sera and Drepung Monasteries. After visiting important Tibet attractions in Lhasa, travel groups will head for Shigatse by way of Lake Yamdrok and Gyantse. In Gyantse, the travel group will learn about Tibetan Buddhism at Pelkhor Monastery and enjoy beautiful art in Kumbum Pagoda. The tour makes an overnight stop in Shigatse, paying a visit to Tashilhunpo Monastery before heading to Everest.
Days 5-6: After departing Shigatse, the drive to Everest takes a few hours. There will be many more opportunities for pictures of breath taking landscapes along the way. The travel group will arrive at Everest in the afternoon and stay overnight in one of the tent camps. Travelers are advised to rest and relax in order to wake up early for closer views of the mountain, morning views of Everest are typically the best! Once there has been plenty of time for pictures travelers will drive to the border town of Zhangmu. Travelers will stay overnight here, ending the Tibet tour portion of their adventure.
Day 7-9: On the 7th day, the travel group heads over the border where their Nepali guide will be waiting. In Kathmandu, travelers will visit places such as the Historic Durbar Squares and Bodhanath Stupa. On the final day of the tour, the group's Nepali guide will accompany them to the airport. Interested travelers are more than welcome to extend their adventure in Nepal.
The Lhasa to Kathmandu Budget Tour gives travelers the flexibility they need to enjoy landscapes and cultural sites while still covering a lot of ground. By organizing smaller travel groups, TCTS aims to provide travelers with the most authentic perspective possible. Spots in TCTS's group tours are booked on a first come first serve basis, with the Tibet travel season coming into full swing travelers are advised to start planning their trip now.
Devin Moore provided this news release above on behalf of local Tibet tour agency TCTS (tibetctrip.com). Devin is a travel writer and independent economic analyst based in Springfield, Missouri USA. His economic research is currently focused on airfare pricing. Devin Moore works to spread awareness of Tibet and its people through publishing Tibet travel information.