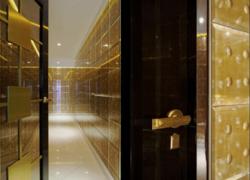 This apartment has elements of both luxury and playfulness. Our design team focused on detail, quality, luxury, and at the same time ensured the client gets value. - Faiza Seth (CEO of Casa Forma)
(PRWEB UK) 3 May 2013
Casa Forma, the London-based bespoke luxury interior design firm, have just completed an entertainment apartment at Canary Wharf in London, UK, 2013.
Canary Wharf is a major business district located in London and is one of London's two main financial centres. Along with the traditional City of London, it contains many of UK's tallest buildings including One Canada Square, which is also the 15th-tallest building in Europe. There is also around 14,000,000 square feet (1,300,000 m2) of office and retail space, of which around 7,900,000 square feet (730,000 m2) is owned by Canary Wharf Group.
Casa Forma's daring and sensuous interior design scheme for this Canary Wharf project redefines the boundary between living and entertainment spaces. This 3,500 square foot exquisite Canary Wharf apartment can be turned into a luxurious entertainment space/night club at the flick of a switch. The element of fun is woven through the scheme by the use of unique materials, lighting, visuals and technology.
Upon entering the Canary Wharf apartment, the first focal feature is the spacious entrance lobby that connects the main entertaining space with the master bedroom. The entrance has the spectacular floor to ceiling onyx panels which are back lit with RGB lights and framed by a polished brass profile. The main area of the apartment has been enlarged and sectioned into three spaces: dining, cooking and bar lounge. The main area space offers breath-taking panoramic views of London. The dining area is backed by an impressive wall joinery in shagreen-embossed bronze which morphs itself into an aquarium. The cooking area has an extensive seating area in the island which is lined by a fantastic bespoke chandelier throughout its entire length. The bar area is a combination of extraordinary materials, unique finishes such as Lucido Persiano back lit onyx which clad all the columns and mahogany piano finish timber as well as perforated bronze metal panels. There is even a games room with a English pool table that is housed in a room that has backlit water bubble walls.
"This apartment has elements of both luxury and playfulness. Our design team focused on detail, quality, luxury, and at the same time ensured the client gets value," says Faiza Seth (CEO of Casa Forma).
This thought-provoking Casa Forma scheme is the epitome of both luxury and fun. An apartment dedicated to entertaining and enjoying life. Carpe Diem!
For Casa Forma the opportunity of completing a project at Canary Wharf strengthens their worldwide visibility as leading luxury interior designers.
Casa Forma's international design practice provides a comprehensive luxury architectural and interior design service for residential, commercial and hospitality properties. Their experienced team is led by world-class experts from the fields of decorative and structural design placing absolute importance on understanding the particular needs and wishes of their clients for a personalised service delivered to an uncompromisingly high standard.
For more information please visit http://www.casaforma.co.uk