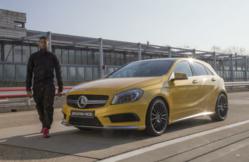 Usher Driving The Mercedes A45 AMG
(PRWEB UK) 1 May 2013
Recently, Mercedes invited Usher to test drive the A45 AMG. Usher accepted the invitation and was excited to get behind the wheel. The Grammy award-winning singer is also known for his presence on social media, which means fans learned about the A45 AMG via Facebook and Twitter. Ushers comments included that the car was "absolutely cool" and "sexy."
The Mercedes A45 AMG features a 4-cylinder turbo-charged engine with 360 hp, a 7-speed AMG SPEEDSHIFT transmission and an all-wheel drive system. The powerful and sculpted four-door sedan also features excellent roll and pitch with great cornering capacities.
The Mercedes A Class for sale targets drivers of the BMW 1-Series M as well as the Audi RS3. With a compact body and high level of performance, the Mercedes A Class is able to compete effectively with this market.
The Mercedes A Class is affordably priced and targets consumers who want a compact vehicle with a performance-driven engine. Mercedes has had significant success with choosing people of high influence to target their demographics. For those who would be interested in the A45 AMG, that person is Usher.
With Usher as the chosen one to test drive the Mercedes A45 AMG, Mercedes is well-positioned in terms of marketing. They have a spokesperson who is capable of targeting the demographic and one that is not just savvy in terms of social media marketing but has a large and loyal social following.
Additionally, Mercedes has asked Usher to build an engine for his own SLS AMG. The Mercedes SLS AMG is a stunning GT coupe with gull wing doors, a twin turbo V8 engine of epic proportions and a engine that maximises the power to achieve 583 horsepower as well as 479 lb-ft of torque.
Usher was looking forward to the test drive and eager to see for himself why car enthusiasts around the world are talking about the new A Class. With the A45 AMG capable of speeds of over 120 miles an hour and a significant amount of torque, the turbo-charged engine can push out 26 psi of boost. It came as no surprise that Usher was impressed when he got behind the wheel of this Mercedes. The performance of the vehicle has been compared to what drivers would expect out of a race car.
Presents plans are for the A45 AMG to initially launch in the UK and European markets only. Whether a driver hears about the hype of the luxury car from Usher or from any of the other marketing materials that Mercedes is presenting, they'll be pleasantly surprised to hear that dealerships throughout Hertfordshire and the UK have the A45 AMG in stock and ready to test drive.
END
Author: David Newman from Mercedes-Benz Hertfordshire
About Mercedes-Benz Hertfordshire - L & L Automotive
L&L Automotive is the driving force behind a dynamic retail network aimed at enhancing sales and after sales services for the region's existing and prospective Mercedes-Benz, AMG and smart customers.
Encompassing retail outlets in Bishop's Stortford, Hertford and Stevenage, the group is operated by L&L Automotive – a company boasting a lengthy and successful history.
L&L's Mercedes-Benz businesses moved into Hertfordshire in July 2002, when it was selected as one of Daimler UK's key business partners in establishing a revitalised national retail structure.
L&L Automotive is a company registered in England and Wales with company number 4415393
VAT No. 794 6047 92
Mercedes-Benz of Stevenage: 01438 737800
Mercedes-Benz of Bishops Stortford: 01279 719333
Mercedes-Benz of Hertford: 01992 514444