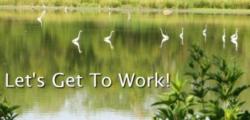 We are delighted to foster relationships amongst cultural institutions and faith communities to inspire and strengthen environmental stewardship in Dallas."
Dallas, TX (PRWEB) May 01, 2013
Dallas Interfaith Power & Light invites you to an afternoon conference on May 5th at the Trinity River Audubon Center on the theme of "Let's get to work." Following a 1:15 PM welcoming and interfaith invocation, Janice Bezanson of the Texas Conservation Alliance will speak about water conservation in Texas. From there, attendees will break into small groups to discuss practical steps for "greening" homes, houses of worship, and communities.
Reconvening for a Q&A panel, Janice will be joined by Mitchell Boone, associate pastor of White Rock United Methodist Church and Elizabeth Dry, executive director of the Promise of Peace Community Garden to speak about community gardening and energy efficiency in churches and homes. Closing remarks will explore the present and future of Dallas Interfaith Power & Light, with the conference officially ending at 4:00 PM. Those who wish are welcome to stroll the beautiful grounds at the Audubon Center until closing at 5:00 PM.
"As a co-founder of Dallas Interfaith Power & Light and a member of the Trinity River Audubon Center," said Anna Clark, president of EarthPeople, "We are delighted to foster relationships amongst cultural institutions and faith communities to inspire and strengthen environmental stewardship in Dallas."
Entrance is free. Donations of $6.00 (the regular cost of entry at the Trinity River Audubon Center) are gratefully accepted and will go to Interfaith Power & Light.
When: Sun May 5, 2013 1:15pm – 4:00pm
Where: Trinity River Audubon Center, Dallas, TX (map)
Agenda:
1:15: Welcome/Gathering
1:30: Interfaith Invocation
1:35: Keynote address from Janice Benzanson on Water Stewardship and Local Action
2:30: Break
2:45: Panel discussion: Jinen Adenwala, Rev. Mitchell Boone, Elizabeth Dry, Janice Benzanson
3:45: Closing comments with discussion of upcoming events at DIPL, invitation to explore TRAC
About Dallas Interfaith Power and Light
Mission
Dallas Interfaith Power & Light promotes love, justice, and care for creation through local action, education, and dialogue about climate stewardship.
Principles
We represent many faiths and traditions, coming together because we believe that the social justice message within "love thy neighbor" calls us to work for changes in how we utilize our natural resources. We seek positive interactions and a bright future that accounts for the well-being of those living today and for the generations to come. We believe in listening to and welcoming the voices of all who seek the same. We see our diversity as bringing greater strength to this work, enhancing rather than weakening our personal faith. By providing a safe space for interaction with those from other religions, we can all learn and share our own perspectives, building bridges with others who are equally passionate about seeking God and protecting creation.
History and Participation
The group formed in early 2012, initially as an effort aimed at uniting Christians around "creation care" but later broadened to embrace participation from all faiths. We are a part of Texas Interfaith Power & Light, and of the national Interfaith Power & Light organization, which offers "a religious response to global warming." Currently, our group holds monthly meetings and is focused on organization and planning future events. We try to keep the sessions lively, mixing up presentations and dialogue with hikes and movies.
What we need is more people committed to supporting each others' efforts, more people to help organize an occasional event, and more people who will help us embody the religious and ethnic diversity that we seek (to date our participation has included members of many Protestant denominations, along with a few individuals from Baha'i, Jain, Jewish, Muslim, and Wiccan communities).
On behalf of the Dallas Interfaith Power & Light steering committee, we would like to invite you or anyone else in your faith community to join our young effort. At this time we do not have any formal membership definition or dues.