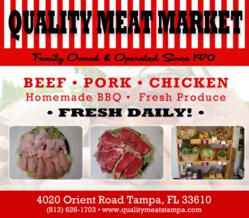 Our goal here is to satisfy our customers. We offer great products, prices and service to our customers.
Tampa, FL (PRWEB) May 01, 2013
In addition to the time savers, they are now offering Tri-Tip, a fairly inexpensive cut out of the sirloin section which was made popular on the West Coast many years ago and is now gaining popularity in the area. Tri-Tip can be seasoned or marinated whole and grilled medium rare and then allowed to rest for about 10 minutes. It is then sliced fairly thin and served, easy and delicious. They also offer reasonably priced Rib-Eye sliced for Philly steak sandwiches. Unlike competitors, Quality Meat Market will custom cut anything and will special order hard to find items.
"Our goal here is to satisfy our customers. We offer great products, prices and service to our customers. Like everyone else we have to deal with a struggling economy. We have cut profit margins quite a bit in the last several years, as we know how tough it can be on the average family and want to do what we can to ease the burden," said owner, David Frese.
Quality Meat Market, family owned and operated since day one is a 42-year-old staple in the Tampa area. Owner David Frese grew up working at Quality Meat Market with his parents for 35 years before he and his wife, Alise took over it in 2005. Now, David's son Gary and his wife, Dona also helps to run the store.
Quality Meat Market is located at 4020 Orient Rd in Tampa, Florida. For more information, please visit http://www.qualitymeatstampa.com or call 813-626-1703.
About Quality Meat Market
Back in 1969, Bill and Joann Fritz wanted to start a meat market and needed a partner. They knew a young couple, George and Marie Frese, who owned an egg farm and wanted to sell.
In 1970, the Freses sold the egg farm, went into business with the Fritz's, and Quality Meat Market was born. Business at Quality Meat Market grew and each year they expanded their store to the size it is today and has been in the same location since its beginning in 1970. In 1974, 4 years after Quality Meats was founded Bill and Joann Fritz decided to retire, selling their half of the store to George and Marie Frese. George and Marie Frese have two kids, Debbie and David. In 1994, David became partner with his parents at Quality Meats. Ten years later in 2004, George and Marie Frese decided to retire and gave the store to David. George Frese (pop) passed away February 2011.
About NALA™
The NALA (National Association of Local Advertisers), a small business association, is for local business owners offering new online advertising & marketing tools, great business benefits, education and money-saving programs, as well as a charity program.
PR Contact: Tiffani Tendell
805.650.6121 x361
ttendlell(at)starkartthenala(dot)com