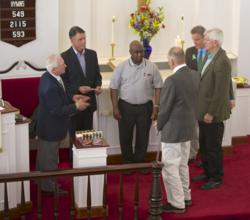 This book is a tool to help the mind, soul and spirit find peace -- Royston Bailey, president of New York Conference United Methodist Men
Nashville, TN (PRWEB) May 03, 2013
A new book of daily devotions for first responders of all denominations has been distributed to fire fighters, police officers, EMT personnel and other community servants in Newtown, Conn., West, Texas and Boston.
Strength for Service to God and Community, a pocket-sized book of 365 devotions, is patterned after a 70-year-old Strength for Service to God and Country written by pastors and educators for troops during World War II. More than one million copies of the original book were distributed before it was discontinued in 1954. Twelve years ago, it was republished by Evan Hunsberger, a California Boy Scout. A total of 460,000 copies of the revised edition have been distributed, primarily to troops in Iraq and Afghanistan. The same Strength for Service team that helped Hunsberger raise funds and distribute the books developed the new volume with entirely new meditations for those in the service of others.
Newtown
Royston Bailey, president of New York Annual (regional) Conference of United Methodist Men, distributed 250 copies of the book to fire fighters and police officers who responded to the tragedy at Sandy Hook Elementary School where 20 children and six adults were killed.
"This book is a tool to help the mind, soul and spirit find peace," said Bailey in an April 28 presentation to three first responders at Newtown United Methodist Church. Rob Sibley, Ken Carlson, and Bob Virgalla were among those who responded to the Dec. 14, 2012 tragedy.
The Rev. Mel Kawakami, pastor of Newtown United Methodist Church prayed over the books, "Lord, we ask your blessing upon these books and those who are to receive them that they may feel your power and your strength, your renewal in their service to you and to our community."
Jon Christensen, a member of the church, coordinated and introduced giving the books to the three first responders. "This book to going to be very meaningful," he said. "The first responders will use it. They'll rely upon it. They'll bring additional copies to their respective first responder units and to all of the eight units here in town." He felt that it was important for the first copies to be received in a worship service. "It will mean a lot to the church" in the ongoing care for Newtown's first responders.
As soon as the first responders received the books the congregation stood and applauded them, for an extended period of time.
West, Texas
On April 24, Dennis Rejcek, a resident in the West, Texas, Area, delivered 200 copies of Strength for Service to God and Community to the West firefighters and police officers who lost 14 of their colleagues in an April 17 fertilizer plant explosion. "We reserved a book for a firefighter who is the son of one of the firefighters who lost his life," said Rejcek. "I was invited to meet the fire chief in command and he was so grateful."
Boston
One hundred copies of Strength for Service to God and Community were also sent to the Massachusetts Council of Churches. Churches received free sample copies and were invited to purchase additional copies for first responders in their faith communities.
"I hope fire fighters, police officers, EMT workers and other first responders will also find the new book as helpful as military personnel found the 70-year-old volume to be," said L.W. Smith, chair of the non-denominational taskforce that promotes both Strength for Service books.
"Whether you pull victims from fires, resuscitate heart attack victims, or patrol dangerous streets, this book is written for you," says Hunsberger. "It is a small token of our appreciation for your dedicated service to keeping communities safer."
Further information is available at: http://www.strengthforservice.org.
About Strength for Service, Inc.
Formed in 2013, Strength for Service, Inc., is a 501(c)3 (applied) organization that seeks to make a positive difference in the lives of those who serve our local communities and around the world. The Strength for Service books are printed and distributed through the generous support of sponsoring individuals, corporations and community organizations. To contribute to Strength for Service, Inc., or purchase books for first responders in your community, please visit http://www.strengthforservice.org.