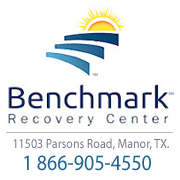 Manor, TX (PRWEB) May 01, 2013
Jason Chane, Executive Director of the Men's drug and alcohol recovery program at Benchmark Recovery Center (BRC), has been invited to attend the annual meeting of the Association of Intervention Specialists from May 7-8 in London, England.
While in London, Chane will also attend the European Symposium on Addictive Disorders (UKESAD), which is Europe's largest conference of drug and alcohol addiction and recovery. The conference takes place May 9-11, in London. Below, you can read a little more about each program. Benchmark Recovery is proud to have Chane represent them in the UK.
Association of Intervention Specialists (AIS):
The Association of Intervention Specialists is a network of interventionists located throughout the country and abroad. Members guide families and friends, business executives, and others through the intervention process whereby a person addicted to alcohol and/or other drugs and compulsive behaviors is encouraged to accept help. All full members are Board Registered Interventionists, thereby meeting or exceeding educational and performance standards.
European Symposium on Addictive Disorders (UKEASD)
Since the late 1980s, general knowledge about how to recover from drug and alcohol addiction dependencies has become more widespread, thanks to organizations like ARF.
ARF stands out as a leading-edge organization comprised of staff, trustees and professionals who have, at some point, experienced drug and alcohol addiction first hand and who are now in long-term, sustainable recovery themselves. It is due to this depth of first hand experience that has contributed to ARF's success among its peers.