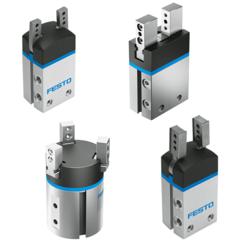 Hauppauge, NY (PRWEB) May 01, 2013
The parallel, three-point, radial, and angle pneumatic grippers in Festo's DHxS series have been in high demand since the series introduction. The quality, performance, and one-stop-shop ordering convenience with other Festo pneumatic and electronic actuation products have made these grippers a hit in the U.S., prompting the company to feature the line as products of the month for May.
"Our product of the month program showcases innovative solutions," said Frank Langro, director of marketing and product management. "The DHxS pneumatic series was a next generation design upgrade. The line, especially the parallel gripper option, has exceeded our expectations."
The parallel, three-point, radial, and angle grippers feature optimized gripping force retention and overload protection as well as integrated sensor slots. Compression spring-assisted gripping force retention provides security in the event of a pressure failure. In addition, T-slot guides increase the torque resistance of the gripper jaws. Double-acting piston drive gives the series stable kinematics and maximum repetition accuracy. Reliable SMx-8 sensors provide contactless end-position sensing, and SMAT-8M sensors provide 0-10V analog position feedback.
The DHxS series has a slim, compact design without any interference contours caused by external sensors. The integrated fixed orifice restrictor provides an effective safety buffer. This protects against overloading during high-speed gripper motion and prevents damage due to excessive force. There are a wide range of mounting options, gripper sizes, and stroke lengths. An Internet based gripper sizing tool is on the Festo website. This tool helps ensure that grippers are sized properly for the application.
For more information on the May Festo products of the month, the DHxS parallel, three-point, radial, and angle pneumatic grippers, call Festo at 800-993-3786 and visit http://www.festo.com/us.
###