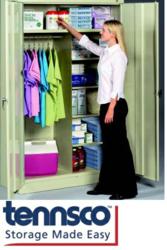 Tennsco Is a Great Option For Our Customers
San Francisco, CA (PRWEB) May 02, 2013
Tennsco has been an A Plus Warehouse vendor for years now, and has a nice installed base amongst A Plus Warehouse customers. Tennsco has been manufacturing Lockers, Work Benches, Cabinets and Shelving in Tennessee since 1962. In the 41 years since that date, Tennsco has grown to 1.4 Million square feet of manufacturing space in six plants. Tennsco's manufacturing is state of the art – with multi sigma, lean inventory and all the other fancy MBA stuff.
According to Ed Stairman, "Tennsco is a great selection for our customers."
A customer can't go wrong ordering Tennsco products through A Plus Warehouse. Tennsco's new and improved logo really says it all – Storage Made Easy. From one source, customers can order the work bench, shelving, lockers, file cabinets, and metal cabinets for any industrial or office requirement.
There are several products within the Tennsco line that merit some attention:
(1) See Through Storage Cabinets – Heavy duty industrial cabinets with see through windows.
(2) Combination Lockers – Lockers that are a combination of cabinets and standard gym lockers.
(3) See Through Lockers – Great for security.
(4) Lockers Without Legs – Tennsco is one of the few manufacturers that produce lockers without legs as a standard.
(5) Electronics Benches – Tennsco's Benches are durable and attractive.
Tennsco also offers in stock shipment for the most popular items offered.
Customers have a choice where to order and A Plus Warehouse offers compelling reasons to purchase at A Plus Warehouse. A Plus Warehouse is an 'old fashioned' industrial distributor – to the extent that the phones are manned by people and not voice mails. When a customer calls 800-209-8798 – the A Plus Warehouse order line – the person answering the call is able to help with any request. Even the receptionist at A Plus Warehouse has undergone A Plus Warehouse sales training. Customers are treated promptly and with respect. A Plus Warehouse also offers a service for younger buyers that may not enjoy talking so much. A Plus Warehouse handles business by email also if that is what a customer desires.
Since 1996 A Plus Warehouse has been providing industrial equipment by Tennsco and a wide range of additional quality manufacturers. With A Plus Warehouse service levels and with the quality of products the company sells, A Plus Warehouse has many thousands of satisfied customers. A Plus Warehouse's staff is ready to handle any questions regarding Tennsco or our other product lines