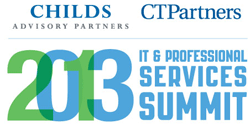 I know our attendees will be impressed with Loftware's industry leadership...
Portsmouth, NH (PRWEB) May 01, 2013
Robert O'Connor, Jr., Loftware's President and CEO, will speak at the upcoming 2013 IT & Professional Services Summit in Chicago, IL. Mr. O'Connor will share insight about how Loftware has delivered barcode labeling solutions for over 5,000 global customers while sustaining growth and profitability, creating strategic partnerships and establishing itself as the global market leader in Enterprise Labeling Solutions.
CHILDS Advisory Partners and CTPartners bring together CEOs, top executives and polished IT Professionals for an exclusive fourth annual event.
"The IT & Professional Services Summit brings together an outstanding group of industry leaders in software, services as well as members of the financial community," noted Tom Donahue, Managing Director of CHILDS Advisory Partners. "We are very pleased to have Bob O'Connor from Loftware as a speaker at our Summit on May 2nd. I know our attendees will be impressed with Loftware's industry leadership as an enterprise software company that brings great value to their large base of global companies as well as their track record of strong growth and profitability."
About CHILDS Advisory Partners:
CHILDS Advisory Partners provides exceptional investment banking services to high-performing business services and technology companies. Their unique combination of sector focus, process excellence and strength of team allows them to achieve successful outcomes for clients. Collectively, senior bankers have executed over 350 M&A and financing transactions. CHILDS is a member of FINRA and SIPC and is a registered broker-dealer.
About CTPartners
CTPartners is a leading performance-driven executive search firm serving clients across the globe. Committed to a philosophy of partnering with its clients, CTPartners offers a proven record in C-Suite, senior executive, and board searches, as well as expertise serving private equity and venture capital firms.
With origins dating back to 1980, CTPartners serves clients with a global organization of more than 400 professionals and employees, offering expertise in board advisory services and executive recruiting services in the financial services, life sciences, industrial, professional services, retail and consumer, and technology, media and telecom industries. Headquartered in New York, CTPartners has 22 offices in 15 countries.
About Loftware
Loftware, Inc. is the global market leader in Enterprise Labeling Solutions with more than 5,000 customers in over 100 countries. Offering the industry's most comprehensive labeling solution, Loftware's enterprise software integrates SAP®, Oracle® and other enterprise applications to produce mission-critical barcode labels, documents, and RFID Smart tags across the supply chain. Loftware's design, native print, and built-in business rules functionality drives topline revenue, increases customer satisfaction, and maximizes supply chain efficiency for customers. With over 25 years of industry leadership, Loftware's enterprise labeling solutions and best practices enable leading companies to meet their customer-specific and regulatory requirements with unprecedented speed and agility.