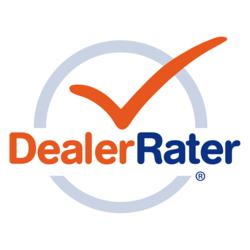 This case study with Polk further validates the importance of online reviews and provides proof that online reviews do drive business for auto dealers.
Waltham, MA (PRWEB) May 06, 2013
DealerRater, the world's premier car dealer review web site, today announced the release of a joint case study with Polk that provides proof that consumer reviews drive auto dealer business. The case study can be viewed in full at: http://ow.ly/knp1B.
Based on its industry-leading registration data and extensive experience analyzing automotive industry data, Polk was able to help DealerRater prove the value of building and maintaining a strong online reputation. Specifically, Polk quantified the direct impact of higher average sales ratings and Certified Dealer Program participation on driving increased vehicle sales. Key points validated by Polk's analysis include:

Higher average star ratings lead to increased sales:
Auto dealers with average star ratings of 4 or higher (on a five-point scale) experienced a 21 percent higher year-over-year sales increase than dealers rated 2 or below.
Participation in DealerRater's Certified Dealer Program drives sales volume increases at dealerships:
Six months after becoming certified, dealers experienced a 5 percent sales increase compared to the six months prior to joining the program. As they further built a positive online presence by using DealerRater's tools, their sales volumes increased by 8 percent after one year. In other words, the average certified dealer sold six more cars per month in the 12 months after joining the program.
Certified dealers outperform non-certified dealers:
Dealers who had been certified for at least one year had a 23 percent higher year-over-year sales volume increase than non-certified dealers.
Being 360Certified™ provides additional value:
360Certified™ dealers who were fully using DealerRater's online reputation management tools saw even higher sales increases when comparing performance before and after becoming certified. Sales rose by 11 percent over six months and 19 percent over one year. Additionally, 360Certified™ dealers experienced a nearly 50 percent greater sales volume increase compared to non-certified dealers.
In the DealerRater/Polk case study, dealership ratings and reviews from DealerRater's database were matched up with new vehicle registration data from Polk.
DealerRater provided Polk with comprehensive information about each dealer in its database, including whether or not the dealer was a certified dealer; average star ratings; the number of negative and positive reviews; and an indicator of how fully each dealer was using the available online reputation management tools. Polk analysts then investigated and reviewed the changes in registrations over several time periods.
"84 percent of Americans acknowledge that online evaluations influence their purchase decisions. This case study with Polk further validates the importance of online reviews and provides proof that online reviews do drive business for auto dealers. It also demonstrates the direct correlation between our Certified Dealer Program and higher increases in new vehicle sales," said Chip Grueter, president at DealerRater.
DealerRater receives a new review every 55 seconds during daylight hours. With its unparalleled volume of dealer reviews now surpassing 1,000,000, 26 percent of all franchised dealers in the U.S. have embraced DealerRater and its award-winning Certified Dealer Program as a critical component of their online reputation management efforts.
DealerRater will present a joint presentation with Polk at the 14th Digital Dealer Conference and Exhibition titled, "The Proof is in the Numbers – Reviews Drive Business." The joint session will cover the results of the case study. It will also include several best practices case studies of dealers that are successfully building their online reputation into a critical competitive advantage. Heather MacKinnon, DealerRater VP of National Accounts and Mark Pauzé, Polk Sr. Product Marketing Manager – Analytics and Consulting, will jointly present the session. The presentation will be Tuesday, May 7th, at 3:00 pm.
For more information, visit http://www.DealerRater.com, call 800-266-9455, or visit booth #313 at the 14th Digital Dealer Conference and Exposition, May 7-9, 2013, in Orlando, FL.
About Polk:
Polk is the premier provider of automotive information and marketing solutions. The organization collects and interprets global data, and provides extensive automotive business expertise to help customers understand their market position, identify trends, build brand loyalty, conquest new business and gain a competitive advantage. Polk helps automotive manufacturers and dealers, automotive aftermarket companies, finance and insurance companies, advertising agencies, media companies, consulting organizations, government agencies and market research firms make good business decisions. A privately held global firm, Polk is based in Southfield, Michigan with operations in Australia, Canada, China, France, Germany, Italy, Japan, South Korea, Spain, the United Kingdom and the United States. For additional information, visit http://www.polk.com.
About DealerRater:
DealerRater was founded in 2002 as the first car dealer review website worldwide. DealerRater is the world's #1 online resource for anyone seeking trusted third-party information on automobile dealerships. DealerRater features nearly 41,000 U.S. and Canadian car dealers, more than 1,000,000 consumer reviews and over 1 million cars for sale. DealerRater attracts more than 9.5 million consumers every year who visit the site to search for car dealerships, read reviews, write their own descriptive reviews, and find car deals – all for free.
In addition, DealerRater offers qualified car dealers a Certified Dealer Program as a reputation management tool to help them grow their online presence and achieve higher SEO rankings across the Web. Today, nearly 4,700 dealers are members of the award-winning DealerRater® Certified Dealer Program. DealerRater is proud to have earned the #137 position on the 2012 Inc. 500 list, an exclusive ranking of the fastest-growing private companies in the United States. DealerRater was also recently awarded a Technology Leadership Award from Dealer Marketing Magazine and a "Top Rated" Reputation Management award in the fourth annual DrivingSales Dealer Satisfaction Awards. For more information, visit http://www.DealerRater.com or call 800-266-9455.