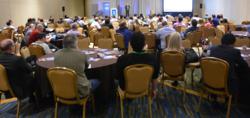 Chicago, IL (PRWEB) May 02, 2013
The agenda for eMetrics Summit Chicago (June 10-13, 2013) is live and positively awe-inspiring. Scaling the heights of this popular digital analytics summit will be keynote speakers from Hyatt, United Airlines and New York University.
Big brands mean big data decisions. In each eMetrics keynote, titans from major international companies will outline their initial challenge and share the valuable tools and tactics they used to optimize their digital marketing programs.

Social Media ROI: Chris Brogan, VP of Strategy & Analysis at the Hyatt Corporation, will outline Hyatt's new form of sentiment analysis – a savvy way to monetize the impact of customer satisfaction via predictive modeling.
Taking Off With All Electronic Devices Turned On: Nick Harris, Senior Manager, eCommerce Channel Optimization at United Airlines, will talk about United's bottom-up testing and top-down automation programs – both started from scratch.
Big Data and Mobile Analytics: Anindya Ghose, Director and Associate Professor at the Center for Business Analytics in NYU's Stern School of Business, will share the latest research on best practices in mobile advertising and the impact of big data.
Widely regarded as the "don't miss" event for digital marketers, eMetrics Summit Chicago features 16+ in-depth sessions, DAA Base Camp™ workshops, a plethora of social opportunities and a formal roundtable discussion.
Networkers will also be pleased to hear that this four-day event is co-located with Predictive Analytics World (PAW), Conversion Conference, and Integrated Marketing Summit (IMS).
REGISTRATION:
Register for eMetrics Summit Chicago (June 10-13, 2013).
View the full agenda and see all the in-depth sessions available.
About eMetrics Summit
eMetrics Summit is "Big Data for Marketing". From early adopters to those still in discovery mode, this is the only comprehensive event dedicated to digital analytics and marketing optimization. The leading conference covering the impact of data & technology on marketing, eMetrics Summit has focused on driving business results through data analysis and technology adoption since 2002.
About Rising Media
Rising Media is a global events producer excelling in Internet and technology-related conferences and exhibitions. Rising Media-produced events include Data Driven Business Week, eMetrics Summit, Context Conference, Conversion Conference, DemandCon, Predictive Analytics World, Text Analytics World, Affiliate Management Days, Building Business Capability, Social Media Economy Days, Web Effectiveness Conference, Search Marketing Expo, SemTech and Social Gaming Summit in the US, Canada, UK, France, Germany, Sweden, Finland and Australia.