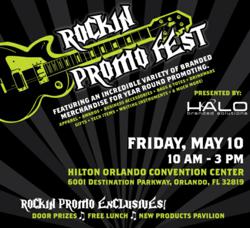 We expect nearly three hundred clients and prospects to attend this event.
Sterling, IL (PRWEB) May 03, 2013
Counselor "Top 40" distributor, HALO Branded Solutions (ASI 356000; PPAI 106462), will host a series of end-user shows featuring promotional products in key markets for the company including Orlando, FL.
The Orlando Rockin' Promofest will be held on May 10, 2013 at the Hilton Orlando Convention Center from 10:00 am – 3:00 pm. This event will feature over 70 of HALO's key suppliers representing a wide variety of product lines, including but not limited to, branded gifts & awards, calendars, bags & totes, drink ware, office gifts, apparel, food items and more. The wide variety of promotional products at the Orlando show allows clients the opportunity to complement their current marketing activities and initiatives, see the newest trends and products available, and speak with experts to identify new ways to incorporate promotional items into their marketing mix. Clients attending the show can expect to receive promotional giveaways and door prizes including the opportunity to win a Fender guitar! Clients can pre-register for the show at http://www.registerhalo.com/show/orlando
According to Jim Stutz, HALO Executive Vice President of Business Development, "We expect nearly three hundred clients and prospects to attend this event. The opportunity to expose our customers to thousands of products from our key supplier partners is something we look forward to each year. Not only does this generate substantial business for us, it strengthens the relationship between our clients and their HALO Account Executive."
To learn more about HALO's Orlando promotional products office and the 2013 Orlando End-User Showcase, visit: http://www.halo.com/promotional-products-orlando-florida/halo-end-user-showcase-to-be-held-in-orlando-2013.aspx
About HALO Branded Solutions
HALO Branded Solutions, based in Sterling, IL, is a leading promotional products distributor in the $18 billion per year promotional products industry. With regional offices in key cities across the country, St. Louis is one of eighteen HALO offices. The Company serves over 40,000 businesses and organizations by offering the best and most competitively priced promotional products supported by world-class customer service and a nationwide sales force of over 500 selling professionals.