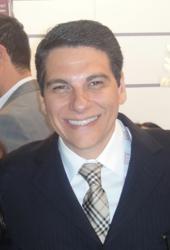 We are proud to be presenting Maximus MED at the XXV CBCD. The Maximus MED enables us to offer an advanced aesthetic platform that achieves significant immediate and long-lasting anti-aging and body contouring results.
(PRWEB) May 01, 2013
Pollogen Ltd., a global leader in the medical aesthetics market and HV Comércio.Imp.Exp.Ltda, announced today that Pollogen's Maximus MED will be featured in a hands-on workshop given by HV during Congresso Brasileiro de Cirurgia Dermatológica.
This year the CBDC is celebrating its silver jubilee and has upgraded the conference to include many new topics and workshops as well an open forum for dermatologists to share their experiences and insights with industry peers. The HV workshop will take place on May 3rd at 14:00 in the Hotel Serra da Estrela Campos do Jordão- SP Mondego room.
The MaximusMED platform delivers a unique aesthetic procedure that allows for safe and effective treatment of four layers of skin - the epidermis, dermis, hypodermis and muscle – all via a single system. Practitioners can significantly rejuvenate most facial and body areas providing immediate and long lasting results in a convenient walk in-walk out procedure.
MaximusMED utilizes three advanced proprietary technologies: TriLipo RF, TriLipo DMA and TriFractional. TriLipo Radio Frequency Technology (RF) is used for wrinkle reduction, skin tightening, preventing wrinkles, cellulite treatment and localized fat reduction.
TriLipo dynamic muscle activation (DMA) is used on the body to clear released fat and on the face to "lift" the SMAS (Superficial Muscular Aponeurotic System). TriFractional technology enables effective fractional skin resurfacing. These combined technologies complement each other to provide enhanced anti-aging and body contouring.
Mr. Newton Martins - General Manager of HV Comércio Importação e Exportação Ltda: "We are proud to be presenting Maximus MED during such an prestigious gathering as the XXV Congresso Brasileiro de Cirurgia Dermatológica. Pollogen continually brings to the table the most innovative and clinically proven solutions. We are particularly pleased with the MaximusMED which enables us to offer advanced aesthetic treatments that achieve immediate and long-lasting dramatic results in just a few sessions."
For more details about this exclusive workshop, contact:
hv(at)hv2002(dot)com(dot)br
http://www.hv.com.br
Tel: (11) 3549.2855
About Pollogen
Pollogen Ltd. is a global leader in the medical aesthetic market, providing professionals in over 60 countries with a wide variety of advanced aesthetic solutions to best serve their customers. Pollogen is the developer and manufacturer of five revolutionary technologies under the industry premier brand names OxyGeneo Technology™, Hybrid Energy Technology™, TriLipo Technology™, TriFractional Technology™ and TriPollar® Technology and offers a full line of clinically-proven, safe and effective, non-invasive anti-aging facial and body contouring treatment platforms for a range of aesthetic applications including circumference reduction, cellulite reduction and skin tightening. For more information, visit pollogen.com.
Pollogen—Expect More: More Innovation, More Results, More Service.