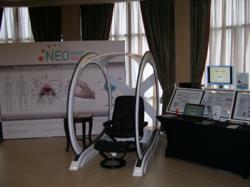 Ottawa, ON (PRWEB) May 01, 2013
NeoWave Health was proud to attend SpringCon13 this past weekend, representing the Magnesphere, Magneceutical.com's patented technology.
"It was terrific to spend two days with so many caring, innovative and forward thinking health care practitioners," said Sol Avisar, CEO of NeoWave. "The Magnesphere technology was very well received and we thank the CAC for their ongoing support and interest in providing their membership with information and access."
The Chiropractic Awareness Council of Ontario exists to heighten public awareness of chiropractic life principles and the multitude of health benefits associated with experiencing chiropractic care provided in a principle-centered, neurologically-based wellness model.
Magneceutical Health is a health and healing device development company that manufactures electromagnetic resonance therapy devices used to not only relax and address symptoms of pain, stiffness and sleep but to also help patients function at their highest level and express optimal health and well-being. The Magnesphere device uses patented electromagnetic technology to provide a "cloud based" therapeutic system to assist the chiropractic industry to consistently produce better clinical outcomes.
NeoWave Health is Canada's Magneceutical Company. As Pico-Tesla's exclusive Canadian licensee it markets the Magnesphere device as a complementary treatment approach in the management of stress related to a variety of conditions. NeoWave is collaborating with clinicians across the country, including pain centers, physical fitness centers and chiropractors, in bringing a novel approach to the business and betterment of health.