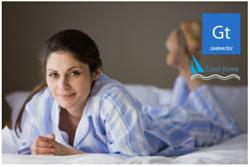 We are in the right place, doing the right things," he says. "Cool-jams was smart enough to recognize that."
Vancouver, BC (PRWEB) May 01, 2013
When Anita Mahaffey set out to make some of the coolest pajamas in the world, finding a great name for her company was the easy part. She called it Cool-jams. Mahaffey's business plan was an immediate hit. Sales and profits have doubled every year since the company was founded in San Diego in 2007 and she predicts further "dramatic growth" over the next two years.
Her boundless optimism rests on a strategic partnership with Garmatex Technologies Inc., which supplies Cool-jams with its new Kottinu(TM) material, a ground breaking microfiber with all the comfort of natural cotton plus astonishing wicking and drying properties. The partnership has already paid off: the prestigious trade magazine Apparel this May honored Cool-jams as one of the top 40 innovative apparel companies in the U.S. This honor was awarded to Cool-jams for their innovative approach to marketing sleep products, as well as their scientifically advanced fabrics and products.
Darren Berezowski, the Los Angeles-based President of Garmatex, says his company is at the leading edge of technological innovation in the performance apparel industry. "We are in the right place, doing the right things," he says. "Cool-jams was smart enough to recognize that."
How Mahaffey tapped into the newly emerging, high technology world of performance fabrics scientifically attuned to the rhythms and patterns of the human body was a case of "synchronicity," she says. She was looking for the perfect fabric while, at the same time, Garmatex was looking for her. Garmatex had heard Mahaffey had been using a material imported from Turkey, and they asked her to compare it with their Kottinu(TM).
Mahaffey, a plainspoken woman with a disarming candor and an infectious laugh, was immediately impressed. "The Garmatex Kottinu(TM) material was better," she says.
"It's more comfortable because it feels like silky soft, lightweight cotton, rather than the sticky, uncomfortable polyester fabric found in most other wicking products," she says. Of particular interest to Mahaffey was the groundbreaking wicking performance of the Garmatex material. "It has all the attributes associated with the fastest wicking and drying material in the world," she says.
The special properties of the Garmatex proprietary microfibers are a closely guarded secret. Mahaffey learned only that it was originally conceived in response to a request from the Canadian Armed Forces for a more effective alternative to cotton. Engineered in the company's Taiwan laboratories, the fabrics in the KottinuTM line employ a Moisture System Transference (MST) process involving a unique blend of fine fibers bound into filaments each thinner than a human hair. The filaments, each with different performance capabilities, are formed into threads and knitted together in ways to speed the movement of moisture through the material.
MST technology regulates body heat while minimizing the energy expended to keep the body cool and comfortable. As moisture is pulled away from the body it carries with it the body's built-up heat, helping to regulate body temperature. This process also minimizes excessive temperature drops during the cool down period after intense physical activity. A proprietary antimicrobial agent, Bact-Out®, is added to the fabric to fight odor and bacteria.
Mahaffey says she finds the Garmatex fabric lasts six times longer than natural cotton and keeps its color with minimal fading. Without doubt, she says, it's the "best wicking product and most effective night-sweat pajama solution. Cool-jams fabrics disperse moisture over larger areas in record time for faster drying and optimal wearer comfort. And the quick-drying properties of the fabric are ideally suited to Cool-jams' line of travel pajamas."
"It's our process that gives us the outcome" says President Berezowski. "We are constantly performance driven in everything we do and performance to us is moisture management, body movement and body efficiencies. This applies to all forms of human activity. Whether you are active or inactive, the critical point is that at all times the body is doing a function and it is the efficiency of that function that helps you to have a better life."
Berezowski compares the philosophy behind Garmatex technologies to the principle of the algorithm, an algorithm being "a specific set of instructions for carrying out a procedure, or solving a problem — each instruction by itself may mean nothing, but when the functions are completed it all comes together and the result is extraordinary."
Keith Gracey, Garmatex Chairman, has even coined a word — "fiberithm" — to describe the complex, rigorous methodology by which Garmatex strives to achieve perfection in its products.
By a happy coincidence, the word fiberithm also nicely conveys the relationship between the sensitivity of the Garmatex fabrics to the human rhythms of its wearers.
Mahaffey would be the first to agree. She's her own best customer for Cool-jams.
"I wear them all the time," she laughs. "And my husband wears the men's pajamas. He loves Cool-jams. Most people, once they've worn them, really don't want to wear anything else."
Mahaffey's niche market is mostly baby-boomers — women and men 45 and up for whom a good night's rest is the key to a healthy, happy life. As a baby-boomer herself, no one knew better than her that Cool-jams sleepwear had to live up to its promise: it had to look good, be a joy to wear and, most important of all, keep a human body cool at night. For middle-aged women battling night sweats — or, indeed, anyone, man or woman, losing sleep due to becoming overheated — the fabric offers unbeatable advantages.
"The purpose is to achieve an optimum sleep temperature," says Mahaffey. "If you don't maintain it, if you are too hot or too cold, then you don't sleep well and the next day you feel tired, you won't perform well. Athletes who don't sleep well, don't perform well. I think Cool-jams are not just for people with night sweats, but for anyone who wants to sleep better in order to perform better." There is now abundant evidence that even a one-degree change in body temperature can interfere with sleep patterns.
Prof. Guowen Song, academic and author of the recent book Improving Comfort in Clothing, says: "The key is to keep human body balance in heat and moisture and therefore maintain thermal comfort to the human body. A one-degree change in human body core temperature is a huge change — it not only changes sleep patterns, but also some physiological functions." Song, an associate professor at the University of Alberta in Edmonton, says the big challenge is to engineer textiles that match the transfer of human body heat and moisture with any given environment.
And that's just what Cool-jams do, say buyers of the company's products.
"OK, NOW I can sleep. I am not just menopausal, I also have rheumatoid arthritis and past Lyme disease (prone to night sweats). So Thank YOU so much for making a sleepable product," wrote Angel R of Chesapeake, VA.
"Great products, super quick drying travel pajama. I'll be back to purchase more," said Ann W. of New York, NY.
"Very soft and comfortable pajama and bedding. Love the products!" wrote M.A. K. of Bloomfield Hills, MI.
Mahaffey says: "We solve problems for people. It's not just a pajama. Cool-jams stops night sweats. We solve the problem of temperature regulation. When you sleep better, you perform and feel better."
Mahaffey, looking to the future, is confident about the potential to expand her offerings beyond sleepwear. "Consumers' expectations are growing and working with a performance driven company like Garmatex makes sense. It allows us to move into new markets, confident we are at the leading edge of fabric innovations."
About Garmatex Technologies, Inc.
Garmatex's performance technologies and fabrics: Kottinu™, T3®, Bact-Out®, Coolskin®, Warmskin®, Coldskin™, Steelskin™, Satinu™, Slimskin™, Camoskin™ and Recoveryskin™ have proven to be superior to any like products available in the market for comfort, fit and performance and are engineered using our proprietary "Moisture System Transference" (MST™) process which provides unrivaled moisture management control. Garmatex's ground-breaking Kottinu™ fabric, with its amazing "cotton-like" comfort and feel, delivers unparalleled performance in moisture management, lasts 6 times longer than cotton, maintains color sharpness with minimal fade and is a viable alternative to cotton in any application where the inferior attributes of cotton have been considered "the standard". Our patented T3® triple-gusset shirt construction, which allows complete 360 degree mobility of the shoulder without restriction or shirt binding, is the first garment construction design patent granted in decades.
Contact Information
Garmatex Technologies, Inc.
http://www.garmatex.com
Cool-jams Inc.
http://www.cool-jams.com
Media Relations
Garmatex Technologies, Inc.
Canada: 604.575.0366
USA: 714.519.3445
media(at)garmatex(dot)com
Legal Disclaimer/Disclosure: A fee has been paid for the production and distribution of this Report. This document is not and should not be construed as an offer to sell or the solicitation of an offer to purchase or subscribe for any investment. No information in this article should be construed as individualized investment advice. A licensed financial advisor should be consulted prior to making any investment decision. Financial Press makes no guarantee, representation or warranty and accepts no responsibility or liability as to its accuracy or completeness. Expressions of opinion are those of the author's only and are subject to change without notice. Financial Press assumes no warranty, liability or guarantee for the current relevance, correctness or completeness of any information provided within this article and will not be held liable for the consequence of reliance upon any opinion or statement contained herein or any omission. Furthermore, we assume no liability for any direct or indirect loss or damage or, in particular, for lost profit, which you may incur as a result of the use and existence of the information, provided within this article.