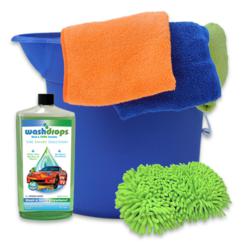 No-Rinse technology helps save time and water.
Solon, OH (PRWEB) May 08, 2013
Summer is right around the corner and so is car-washing season. With Washdrops, an award-winning green car wash solution from automotive aftermarket leader Cequent Consumer Products, consumers can wash their cars without wasting water or harming the environment.
The non-toxic solution will not harm plants or the environment as Washdrops is biodegradable, non-foaming, solvent-free, butyl-free, phosphate-free and ammonia-free. It also helps maintain compliance with the US Environmental Protection Agency (EPA) Clean Water Act. In 2012, Washdrops was named "Green Product of the Year" by Bob Long and his AutoWorld Show for being effective and eco-friendly.
The average consumer can use more than 80 gallons of water when washing their vehicle, with runoff flowing into storm drains and polluting nearby lakes, rivers or reservoirs with contaminants. Washdrops requires just one bucket of water to wash any average size vehicle, and at approximately 70 cents per wash, costs much less than a commercial car wash. Washdrops requires no hose or rinsing at all; the proprietary scientific formula lifts dirt and grime without scratching vehicles or washing away surface wax. While the science is complex, cleaning a car with Washdrops is easy: simply use a wet sponge to wash away dirt and debris and then wipe dry for a streak free shine. Afterwards, you may pour the remaining water on flower beds, grass, or down the drain.
Washdrops is available for sale on Amazon.com, where it is highly-rated by users who report using it on everything from vehicles to outdoor furniture, boats, airplanes, windows and even aluminum siding. Visit Washdrops.com for more product information, and "like" Washdrops on Facebook by May 17, 2013 for a chance to win a prize pack worth more than $50. To enter, share your "green resolution" on the sweepstakes application page. Visit our Facebook page at: https://www.facebook.com/washdrops/app_599788450050788.
About Washdrops:
Made in the USA, Washdrops® is convenient, economical and easy to use! For an average size car, just add 1 ounce (3 capfuls) of Washdrops® to 1 gallon of water. Now you can wash a vehicle anywhere in minutes without running up water bills or driving to an expensive car wash. Washdrops® really is "the smart car-wash solution" plus Washdrops® is biodegradable, non-foaming, solvent-free, and the remaining water can be poured on a lawn or bed of flowers when done. Washdrops® is available in 16-ounce (16 washes), 32-ounce (32 washes) or 1 gallon (up to 128 washes) sizes and is available on Amazon.com.
About Cequent Consumer Products:
Cequent Consumer Products, Inc. is the industry's leading designer, manufacturer and marketer of innovative consumer goods and automotive aftermarket products. For more than 85 years, Cequent Consumer Products has produced some of the most dependable products in the market today including superior-quality towing and hitch systems, trailer components and accessories, wiring, lighting and brake systems, cargo securing, cargo carrying, rack systems, as well as household and industrial brooms and brushes. For more information on our brands, please visit Cequent Consumer Products website.