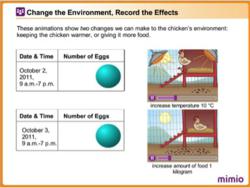 MimioScience is among the first curricula to address the Next Generation Science Standards.
Cambridge, MA (PRWEB) May 01, 2013
Mimio, one of the world's leading providers of interactive teaching technologies, is ready to help science educators adjust their curricula to the Next Generation Science Standards' (NGSS) new, rigorous demands with MimioScience™ interactive lessons for students in grades 3-8. The lessons are aligned to the final version of the recently released NGSS which were built upon a vision for science education established by the Framework for K-12 Science Education and published by the National Academies' National Research Council in 2011.
"MimioScience is among the first curricula to address NGSS," said Manny Perez, Mimio's general manager. "NGSS can be considered the equivalent of Common Core standards for science. The standards' developers used the National Research Council (NRC) science framework as the basis for the NGSS. MimioScience is aligned with the NRC science framework, so it's also already aligned with the newly released standards."
Each MimioScience unit includes information on how that particular unit aligns with the NGSS. The state-of-the-art software has 75 units that provide more than 225 lessons, which cover physical science, Earth and space science, engineering, life science and science processes.
MimioScience lessons' grade-appropriate activities support the NGSS objective of identifying what students can do, not just how many memorized facts they can recount. Each activity ties particular science content or principles to a science practice, and the effectiveness of all activities has been tested by both students and teachers.
"The design of MimioScience is based on learning research about the most efficient and effective ways to teach concepts, principles, and skills," said Perez. "The lessons' targeted hands-on activities allow students to build, analyze, modify, correct, classify and otherwise interact with instruction."
In June, 26 physical science units (about 80 lessons) and 18 science processes units (about 54 lessons) will be available for downloading. During the winter of 2014, Mimio will release 7 engineering and technology units and 18 Earth and space units (about 54 lessons). Twelve life science units (about 36 lessons) will become available for downloading in April 2014.
Each unit is a stand-alone piece with all necessary instruction, practice, in-school activities, and suggested extension activities for students to continue applying what they learned. Assessment probes are embedded within the lessons, and teachers have the option of modifying MimioScience assessments, practices and instruction. Directives for lesson delivery and feedback to students are included in the lessons.
Every MimioScience lesson works on Mimio's interactive whiteboards, the MimioTeach™ and MimioBoard™ devices as well as on interactive whiteboards from other vendors. The content programs are also integrated with the rest of the MimioClassroom™ suite of interactive technologies, including the MimioProjector™ interactive projector, which allows teachers to simply connect the device to their computer to project lessons, graphics, and images onto a conventional dry erase board or other flat surface; the MimioVote™ assessment; the MimioView™ document camera; the MimioPad™ wireless pen tablet; the MimioCapture™ ink recorder; and the MimioMobile™ app for the iPad.
The MimioScience curriculum is also aligned with TIMSS (Trends in International Mathematics and Science Study), an international set of standards. In addition to the two standards, each unit includes information about what level of Bloom's taxonomy it matches.
The price of the MimioScience interactive lessons is $1,299 per school per year. Schools that buy the software now will get two academic years (2013-2015) of use for the price of one year's purchase. In addition, schools will have access to MimioStudio™ software during the same academic years. "For schools and teachers who are looking for ways to be NGSS-ready in the fall, this is a great product to consider," said Perez.
About Mimio
Mimio is a global leader in interactive teaching technologies that offer a better way to learn and an empowering way to teach. As part of Newell Rubbermaid's global portfolio of leading brands, Mimio designs innovative, affordable educational technologies and solutions to increase effectiveness and engagement in K-12 classrooms. For more information, visit mimio.com. Follow Mimio on Twitter @MimioTechnology and "Like" us on our Facebook page at http://www.facebook.com/Mimio.Technology.
# # #