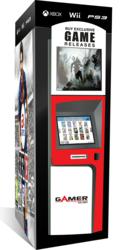 If traditional retailers are going to compete with on-line retailers, they have to rethink their business model
Mississauga, ON (PRWEB) May 03, 2013
Meet 'The Gamer' by Signifi Solutions, an innovative addition to the automated retail sector. This game vending kiosk, called the 'Gamer Spot Shop,' will shake up the self-service industry by offering vendors unique cost saving features as well as exciting new ways to utilize retail space.
"If traditional retailers are going to compete with on-line retailers, they have to rethink their business model," says Shamira Jaffer, CEO of Signifi Solutions. "Key strategies must include decreasing costs, empowering customers and reducing dependence on staff."
With the continuing rise in online shopping and consumer savvy, the price of product and customer experience matters more than ever. Currently retailers spend enormous resources and space to sell video games. An intelligent automated retail solution provides better control over inventory and reduces manpower and space requirements.
Rent and square foot reduction is just one of the great features the Gamer offers. With games safely stocked in the Gamer, shrinkage is no longer a concern. Ongoing theft of high-ticket games has forced most retailers to store their inventory in locked wall cases, making consumers wait for sales staff.
The Gamer's touchscreen offers an intuitive way to flip through titles, hunting for new games, or maybe buying old favorites. Customers can browse, check out and collect their games in seconds. They can also pre-pay and reserve online, guaranteeing priority pick-up at the Gamer for new game releases.
In effect, the touchscreen acts as a virtual salesperson, empowering the customer while reducing dependency on staff. The data collected gives retailers instant sales figures and trends, telling them when they need to stock, what titles are particularly hot, and which ones are losing traction. "This creates a rich information bank that will let you know what kind of games you should buy for any particular kiosk, in any location you might have," says Signifi's Tom Hall. "You are able to track all kinds of movement in shifts in the gaming realm. You can't put a dollar figure on the value of that kind of data. It gives a significant edge in the market."
In terms of the actual guts and glitter of the machines, Signifi's automated retail Spot Shops are always consistent throughout their multi-model offerings: most notably high reliability, incredible dispensing speeds and great customer experience. A game can be retrieved in approximately 10 seconds; a much quicker consumer experience than trying to find the clerk to unlock that annoying display case.
The Gamer's sophisticated robotics are designed in-house and LCD advertising screens are attractively housed in sleek, space-efficient modular designs that can be configured to expand as the business grows and can be customized to support any brand the retailer desires. Many of Signifi's intelligent retail solutions are IBM-certified for Store Integration Framework and can tie into POS or retail payment systems.
For retailers like Game Stop and EB Games, the Gamer allows an opportunity to cost-effectively expand distribution to sell both new and used games to new demographics and locations.
The Gamer offers minimal overhead with a maximum ROI, a solution that is rapidly becoming the market favorite on an international scale. Signifi is beginning a trial in Germany and North America.
###
About Signifi Solutions Inc.
A technology company focused on intuitive, next-generation touchscreen solutions for retail, entertainment, and telecommunications.
Signifi develops self-service innovations that transcend traditional consumer expectations, solving today's challenges and inspiring tomorrow's possibilities. With unparalleled insight and boundless creativity, Signifi delivers automated retail and touchscreen solutions that are sleek and visually appealing while smart and super-intuitive.
Since the company's inception, Signifi has designed solutions to deliver consumer choice, convenience and simplicity through an engaging experience. The Signifi platform integrates the tactical advantages of marketing with the delivery of media products, monitoring, maintenance and real-time management of digital solutions.
A successful technology company with global impact, Signifi quickly evolved from a development firm to a driver of self-service retail solutions.
http://www.signifi.com