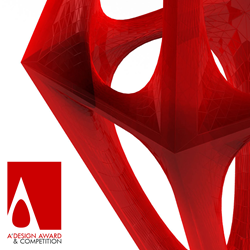 475 Designs from 66 Countries were granted the A' Design Awards
Como, Italy (PRWEB) May 01, 2013
After a rigorous evaluation by the 30-member experienced jury panel composed of Academics, Business Professionals, PR Experts and Focus Group of End-Users, 475 distinct and creative entries from 66 countries were awarded with the A' Design Award. Awards were given in 80 categories such as Furniture Design, Packaging Design, Interior Design, Industrial Design, Interaction Design, Graphics Design, Architecture, Arts and others.
Awarded Entries
Award winning designs and projects are exhibited at: http://www.designmag.org and the full list of 2012-2013 period A' Design Award Winners are available online at: https://www.adesignaward.com/winners.php Press Members can access or request high-resolution images and additional information such as the winners' profiles and contact information through A' Design Award website. Interviews with the award winning designers are published online at http://www.design-interviews.com Furthermore, using the A' Design Award press interface, media editors could request custom interviews with winners or access the press kits which are also available at https://www.adesignaward.com/press-packs.php
Gallery
The A' Design Awards' photo gallery is accessible online: https://www.adesignaward.com/gallery.php The A' Design Award photo gallery contains images of all awarded designs, gala-night, exhibition and winners' photographs. A' Design Award hereby grants all the press members the needed rights to use both the interviews and images to publish the award winning works for news purposes. Press members who would utilize the images or interviews are kindly asked to send a notification for archive purposes.
Gala-Night
More than 400 winners, press members and industry contacts joined the A' Design Award & Competitions' 2012-2013 period awarding ceremony where winners were presented their awards by the esteemed jury members and the award committee. The exclusive black-tie gala-night presented a perfect opportunity for award winning designers to network, to know and meet fellow designers, press members and industry leads. A' Design Award Ceremony was further honored by the participation of diplomatic missions and attaché's of award winning designers who presented awards to winners from their countries. The A' Design Awards' Gala-Night took place on 14th April 2013 between hours 6 pm to 11 pm at a magnificent villa at Como Lake in Italy. Press members are kindly invited to contact support(at)adesignaward(dot)com for an exclusive invitation to join the next edition.
Exhibition
The exhibition of awarded projects took place in a historical location: Ex-Chiesa di San Francesco in Como. The opening ceremony took place on 15th April 6 pm. The exhibition featured free admission and was accessible to public from 12th April 2013 to 27 April 2013 between hours 9 am to 5 pm continued. The exhibition welcomed design enthusiasts in Italy & Europe and attracted international visitors who were present for Milan Design Week. The A' Design Award & Competition Exhibition was also one of the major interest spots in the Fuori Salone Dentro Como.
Yearbook
A' Design Award & Competition Yearbook 2012-2013 features all award winning designs. The book contains high-resolution images of the winner entries, world design rankings and further information regarding the award. The Award Winners' book is freely available for press members, and has been included for free in the Winners' Packages which have been distributed in the Gala-Night and Exhibition.
World Design Rankings
A' Design Award has a leading position within all design competitions through managing world design rankings for all creative industries. In 2012-2013 design competition period, projects from 66 countries were granted the A' Design Award which effected the World Design Rankings. Currently United States leads the World Design Rankings with 92 awards won. Countries in top 10 include: Japan, Hong Kong, Brazil, China, Germany, Italy, United Kingdom, Greece and Turkey. The latest world design rankings (and also sub-country rankings for design) could be accessed at http://www.designerrankings.com
Global Designer Rankings
Worlds' top designers, artists, architects and design oriented companies are ranked and listed online at Designer Rankings based on the number of A' Design Awards they have won. The latest rankings can be viewed at http://www.designerrankings.com
About A' Design Award
The A' Design Award & Competition is an annual international design award and competition aiming to highlight design oriented products, services and offerings. A' Design Award & Competition has been synthetically created through scientific research and was developed as a part of an advanced design research to provide an ethical and fair ground for all design fields to compete upon. A' Design Award and Competitions aims to highlight the excellent qualifications of best designs, design concepts and design oriented products by presenting its winners with publication and advertising opportunities. Further information regarding the award can be accessed from http://www.whatisadesignaward.com