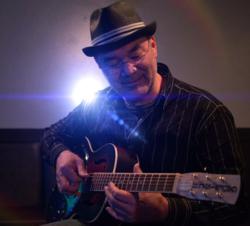 Rockford, IL (PRWEB) May 06, 2013
Singer-songwriter Ron E. Rawhoof's, http://www.ronrawhoof.com, debut album "Too Much to Lose" features ten signature compositions and multiple guest musicians, notably virtuoso cellist and Linda Ronstadt progeny, Michael Gilbert Ronstadt. Midwest Sound producer, performer, and engineer Dan McMahon (collaborator with Rockford legend Miles Nielsen) captures the best features of Rawhoof's sound: intricate acoustic melodies, resonant vocals, and introspective lyrics, residing comfortably in the company of some of the best roots-Americana-folk: evoking troubadour tones of the likes of Dan Fogelberg, Kelly Joe Phelps, and James Taylor.
"Too Much to Lose" takes its title from one of the album tracks, the demo of which spent six consecutive months in the number 1 position on Neil Young's "Living With War" website. The remaining tracks have long been staples of Rawhoof's live set, standouts in his infamous "black book" of lyrics. Crowds have long been transfixed by the breathtaking beauty of Rawhoof originals like "Boat" and "Sweet Eileen," and the infectious toe-tapping melodies of "Auf Wiedersehen" and "Little Treva." The long-awaited recordings of this Rockford-native's most well-known songs is an occasion of celebration.
In support of his debut release Rawhoof has multiple live appearances this spring and through the summer, has promoted his album release on Rockford College Radio, and is enjoying the enthusiastic patronage of a loyal fan-base whose willingness to contribute to a successful "Kickstarter" campaign ensured the album's release.