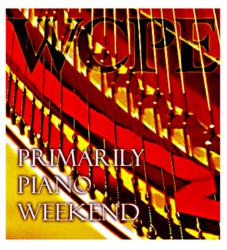 "The piano is a self-contained orchestra, with a wide range of pitch and dynamics."
(PRWEB) May 01, 2013
WCPE's Music Director William Woltz announces Primarily Piano Weekend on May 11 and 12, 2013. The program will feature great composers as well as virtuoso performances.
"The piano is a self-contained orchestra, with a wide range of pitch and dynamics," offers Woltz, who is also Allegro host. "There is a tremendous capacity for expression."
A partial listing includes:
11 Saturday
7:00 a.m. Bach: English Suite no. 4 in F
8:00 a.m. Mozart: Piano Concerto no. 19 in F
9:00 a.m. Liadov: Eight Russian Folk Songs
12 Sunday
7:00 a.m. Scarlatti, D.: Sonata in E, Kirkpatrick 380
11:00 a.m. Chopin: Four Waltzes, op. 42 and 64
12:00 p.m. Dvorˇák: "Songs My Mother Taught Me"
1:00 p.m. Mozart: Piano Concerto no. 20 in D Minor
2:00 p.m. Fauré: Ballade for Piano and Orchestra
3:00 p.m. Rachmaninoff: Piano Concerto no. 2 in C Minor
4:00 p.m. Massenet: Piano Concerto in E-flat
"We'll hear classic performances by Arthur Rubinstein and Van Cliburn, plus some of today's most exciting young performers," adds Woltz.
Also the Saturday Evening Request Program enables listeners to add their favorite composers and performers to the playlist.
http://theclassicalstation.org/features_request.shtml is the link to the SERP request page.
WCPE can be heard worldwide, 24/7, via the Web in multiple streaming formats, including the next generation IPv6. Visit TheClassicalsStation.org/internet.shtml to begin listening online.
Across North America, WCPE can be heard through cable television and radio transmission affiliates. For a complete list of affiliates and cable broadcasters, visit TheClassicalStation.org/rebroadcasters.shtml and TheClassicalStation.org/cable.shtml.
In central North Carolina and southern Virginia, WCPE is found on the radio at 89.7 FM.
For more information on WCPE, or to print a downloadable version of Quarter Notes, the WCPE member's magazine, please visit TheClassicalStation.Org.
About WCPE:
With a 30 plus year history, WCPE 89.7 FM is a non-commercial, 100 percent listener-supported, independent station dedicated to excellence in Great Classical Music broadcasting. WCPE is heard worldwide on the Internet in multiple formats, including the next generation IPv6. Because WCPE receives no tax-derived support, the station conducts two on-air fundraising campaigns and two major mail-out campaigns per year to raise needed operating funds. For more information, visit http://www.TheClassicalStation.org or call 919-556-5178.
Media Contact:
Curtis Brothers
919.556.5178
curtis(at)TheClassicalStation(dot)org
###