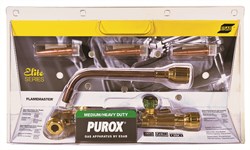 Florence, SC (PRWEB) May 01, 2013
ESAB Welding & Cutting Products introduces the new Purox Elite Series FlameMaster Cutting and Heating Outfit.
The latest in the Purox Elite Gas Apparatus product line, the FlameMaster is supplied ready to cut up to 4 inches (optional cutting tips allow cutting up to 8 inches). The kit heats up to 44,000 btu/hr. using 30 cfh of acetylene; optional heating tips offer up to 294,000 btu/hr. using 200 cfh of acetylene.
The FlameMaster comes with the Purox Elite WH-4200 welding handle, the CA-4200 cutting attachment, ½-inch, 1-1/2-inch, and 4-inch acetylene cutting tips, and the #30 Rosebud Jr. acetylene heating head.
The kit does not come with regulators or hoses and is the ideal conversion kit for operators who already have those supplies.
The ESAB universal injector offers flexibility in gas use. The CA-4200 cutting attachment's patented Swirl Injector creates a superior homogenous mix of preheat gas and preheat oxygen in the entrainment zone to increase efficiency and deliver optimum performance not possible with equal pressure or tip mixers.
The new Purox Elite line was launched in June 2012 and is ESAB's new and improved line of gas apparatus products. The line includes welding handles, cutting attachments, hand cutting torches, regulators, and complete outfits. The Purox Elite Series product line features the top-of-the-line quality, performance, and durability ESAB customers have come to expect, while adding updated safety and design features.
Originally introduced in 1912, Purox and Oxweld are synonymous with high-quality torches and regulators, and have led the industry in oxyfuel welding, cutting and heating.
The Purox Elite Series line is assembled at ESAB's Global Center of Excellence for Gas Apparatus in Florence, South Carolina. All Purox Elite Series products sold in North America are backed by ESAB's 100% Satisfaction Guarantee. ESAB guarantees complete satisfaction with the product for the first 100 days of ownership. ESAB's Lifetime Warranty covers manufacturer defects in materials and workmanship for the life of the product.
ESAB Welding & Cutting Products is a recognized leader in the welding industry. From time-honored processes to revolutionary technologies, ESAB's filler metals, welding and cutting equipment, and accessories bring solutions to customers around the globe. For more information, visit http://www.esabna.com/gasapparatus or call 1-800-ESAB123.