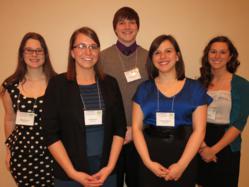 MANSFIELD, PA (PRWEB) May 03, 2013
Five Mansfield University Biology majors made a total of seven presentations at the annual meeting of the Commonwealth of Pennsylvania University Biologists (CPUB) at Clarion University on April 20.
David Glasbrenner, senior Cell/Molecular Biology major (Wellsboro, PA), won first place awards for both his oral and poster presentations in the Ecology/Organismal/Evolution category. Associate Professor Jeanne Kagle directed both projects.
Nichole Eshleman, senior Biology major (Wellsville, PA), won first place for her poster presentation in the Cell/Molecular category. Her work was supervised by Kagle. Eshleman also gave an oral presentation directed by Associate Professor Steven Hensley.
Alycia Pici, senior Biology major (Elma, NY), and Blake McCabe, graduated Anthropology major (Vestal, NY), gave poster presentations guided by Professor Robert Maris.
Leah Fuerst, senior Biology major (Avoca, NY), gave an oral presentation. Her research was overseen by Associate Professor Steven Stein.
Professor John Kirby is Mansfield's CPUB director.
Maris is the CPUB Student Presentation Judging Coordinator.
Mansfield will host the 2014 CPUB meeting. CPUB is comprised of faculty and students from the 14 Pennsylvania State System of Higher Education (PASSHE) institutions.