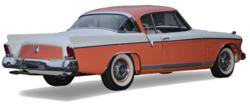 ...if Goodmark doesn't carry these parts, no one else does.
(PRWEB) May 02, 2013
Goodmark Industries - a major player in the vehicle restoration industry for the past 22 years - has created a part that is as highly anticipated as any ever produced. Over the years Studebaker Quarter Panels, or rear fenders as they are more often called, have gained notoriety for being almost impossible to find anywhere among the restoration marketplace.
The Studebaker Corporation - which began in the late 1800s as a manufacturer of wagons for agricultural and military use - developed quite the following of devoted enthusiasts with the manufacture of its automobiles. With prominent appearances in such cinematic classics as "The Ladykillers", "Violent Saturday" and "It Happened to Jane", Studebakers' popularity rose quickly, becoming the vehicle of choice for those young and young at heart alike. Fast-forward to present day and, though that generation has witnessed firsthand the evolution of the modern automobile, their love for the vehicles of their younger days remains unchanged. This, coupled with a new generation of car enthusiasts who have grown to appreciate older model vehicles, has caused the demand for Studebaker aftermarket parts to grow steadily over the years.
The Studebaker Corporation ceased operations in the 1960s, breaking into several different companies. By 1980, the Studebaker name had all but disappeared from the American psyche. Along with the name, the existence of the parts themselves faded from the automotive landscape soon after. These days, one of those parts hardest to find are quarter panels for 1953-1961 coupe models.
Even with parts hard to find and a company dissolved for decades, today's Studebaker owners are still as passionate as the original owners were. According to Goodmark representative Tony Pascale, this passion manifests itself in the numerous requests they received to produce Studebaker parts. "The passion for restoring the Studebaker, did not die with the company. We would get about 10-15 inquires every week asking us about Studebaker parts. They figured if Goodmark doesn't carry these parts, no one else does."
So after years of pleading customers, Tony and the guys at Goodmark set out to create Quarter Panels for the Studebaker. This is music to the ears of the endless Studebaker fanatics of all ages out there that will finally have the opportunity to complete their restoration projects.